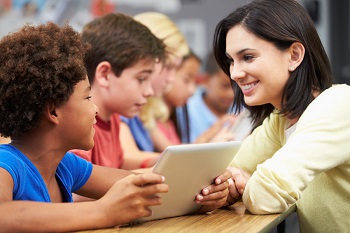 The number of educational apps that are available is constantly growing. This makes it a challenge to select apps that will enhance learning for primary education students.
There are hundreds of thousands of apps for primary education being released on a regular basis. Some of the apps are very high quality and effective where other apps do not really offer an interactive and fun learning experience.
If you are looking for high quality apps for primary education students, here are a few apps to get you started on your way to providing a fun learning experience for young students.
Sentence Ninja is an app for the iPhone and iPad tablet that is designed for cognitive development and communication skills. It is a user-friendly app that teaches young students how to develop sentence structure skills by providing a fun way of building sentences.
The app ranges from basic subject and verb structures to more complex sentence structures which makes it ideal for primary students from four to eleven years of age. The app can be used by students as they move through various stages of sentence structures with a bright colored and engaging interface. Additionally, several players can be setup with 39 different playing levels available.
The 39 levels are organized into six different groups. When each player completes a group, they receive a colored belt. The belts integrate with progress reports and charts along with feedback on the child's progress. There is also a feature that allows you to print or email homework sheets for each level.
Pros
App offers a diverse number of settings that can be customized to the individual needs of the student.
App is progressive thanks to 39 playing levels.
Interface is engaging, colorful, and interactive.
Cons
App lacks a prompt which asks players if they want to quit when clicking on Done. This requires you to start the exercises all over again.
No password setting when modifying different playing levels.
This app for the Android is inspired by the Hands-On Equations program and helps primary school students to improve their understanding of basic algebra equations. The app is comprised of six different lessons and a review lesson, and provides the capability for multiple users to participate.
Hands-On Equation offers a user-friendly Home screen that presents a video explaining how Hands-On Equations works. Before getting started, you must configure the game for one or more users and then select one user's name to gain access to the lessons. Each lesson offers a video with the ability to access practice tests at the conclusion of the video. Then you can move on to the ten exercises in basic algebra which increase in difficulty with each exercise.
Students provide answers to the equations by viewing a balance scale that represents both sides of the equation. Unknown values are represented by blue icons and known constants are red icons. Students must find the value of the icon to balance both sides of the scale.
Pros
App includes review lessons that reinforce learning in previous lessons.
Algebra problems are visual to enable students to learn faster.
App is easy to use with each lesson clearly explained in the video.
Cons
Upper level lessons are designed more for secondary education students.
App contains external links to social sharing which can be a distraction.
BrainPOP Jr. is an Android app for primary education students that is like a digital trivial pursuit game. It covers several different subject areas that are split into different subcategories which have a beautifully animated video with a corresponding test. There are varied levels of difficulty for each subject area that allow for a progressive learning experience.
Young children are guided through different subject areas such as science, math, social studies, and English, via the assistance of a robot called Moby and a student named Annie.
The BrainPOP Jr. interface provides a colorful magazine style layout with user-friendly features that are easy to understand. The icons and menus are designed in a way that makes it easy for young children to understand what different buttons and features mean. The test feature offers two different levels of difficulty to provide for learning progression among age groups. The app also offers short quizzes of only five questions to accommodate students that have shorter attention spans.
Pros
Friendly tone of the app helps children to value the information offered by the characters of Moby and Annie.
Lesson section on animals presents complex ideas in a logical way to provide easy understanding of the difference between reptiles, amphibians, and mammals.
Videos have beautiful illustrations and clear explanations.
Cons
App contains one video on drugs however, it is presented in a factual and straightforward way.
App may not be suitable for upper level primary education students.
Clicker Docs is an app for the iPhone and iPad that assists young children with developing writing skills. The app is especially helpful for special needs students that struggle with dyslexia and students that typically are reluctant to write.
Clicker Docs offers an intuitive interface that provides options to change the appearance of the interface to make it more interesting and engaging than using a traditional word processing application. Students use the child-friendly keyboard to enter their writing into the app. Then they can choose from a variety of speech options which read the content back to the student to help them discover writing errors.
Clicker Docs provides access to Word Banks which provides a way to make your own Word Banks and save them to Dropbox. Then you simply tap on a word to add it to the document. There is also a way to listen to a word before writing it to help find the appropriate word to use. An easy switch tool allows you to quickly change between the keyboard and the Word Bank which helps to make writing tasks easier.
Pros
App is capable of adapting to the needs of a broad range of learners with different abilities.
Documents can easily be printed to any Airprint compatible printer.
App allows you to copy and paste text from outside the app to help with sentence structure analysis and vocabulary.
Cons
App is rather pricey in comparison with other similar apps.
LearningGrids feature requires you to login into the website.
Start with Art
Start with Art is an app for the iPhone and iPad that covers the basics of learning about art using creative and imaginative characters that help young children learn and discover the world of art. Students are guided through the app by three characters known as Furnace, Ruby, and Tickles that step you through short educational videos on what art is along with fun hands-on activities.
Primary school students quickly learn that art is something that is cross curricular and accessible to everyone. The lessons cover Art as a Language, Lines and how they express emotion, Shapes and Forms and how to identify them by looking at their silhouette, and Message in Art which teaches young students how to tell stories using colors.
Start with Art contains an extensive glossary of terms with many learning activities that explore the relationship of art to other subjects such as history, science, math, and others. The educational videos are fun to watch and require an Internet connection for access to the library.
Pros
App contains a doodle tool at the end of each lesson for applying concepts learned.
Idea Gizmo encourages students to use their creativity.
App suggests exploration projects outside the app to encourage students to learn more about art.
Cons
App tends to be a bit pricey.
Painting tool does not always accept finger gestures and the pressure sensitivity sometimes lacks response.
Dragon Shapes is a geometric challenge app for the iPhone and iPad that helps primary education students identify different geometrical shapes. It also assists with the development of spatial visualization skills. The app opens with a friendly dragon that lives in a mythical village and ends up getting lost. The dragon leaves behind scales that require the student to create geometric shapes that help to rescue the dragon and return him to his native village.
The geometric challenge activities are organized into four different levels of learning for primary education students six to ten years of age. The puzzles help students to develop problem solving skills and understand basic geometry concepts.
The four different playing levels range from basic to advanced and include Butterfly Basics that teach vocabulary for shape names, Underwater Shapes Arts that introduces students to trapezoids, pentagons and quadrilaterals, Mountain Shape Arts that introduce the rhombus and the ability to use existing shapes to create new images, and Starlight Shape Arts that teaches right angles, parallel, and perpendicular lines.
All of the geometric shapes in the app can be rotated to enable students to turn them at different angles to successfully solve the puzzles. If the student has difficulty solving the puzzle, they can tap on the light bulb icon to receive helpful hints.
Pros
Each puzzle provides a short introduction to the properties of geometric shapes.
App is child friendly and free of advertisements.
App correlates with the school curriculum.
Cons
App settings and learning outcomes are not password protected.
App requires a one-time purchase for access to 50 puzzles.
These are a few of the best apps for primary education students. Hopefully, this information will help you to find a starting point for finding interesting and engaging apps that provide exciting learning opportunities for your students at the primary education level.
Reference material.
A guide to ten of the best apps for primary and secondary education. See the blog page on the Our ICT website – www.ourict.co.uk. Both articles are available to download in PDF format.
A guide to using tablet devices in the education sector – click here
Angela has worked in the education sector for over two decades. She has extensive knowledge of the latest technologies used in the education sector and enjoys writing about here experiences her spare time.