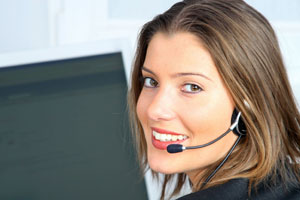 The key to satisfying your customers is to make them feel important, valued and respected, and the best way to do that is to address any issues or concerns they have as soon as possible. A prompt response and resolution shows your customers that you care, and this type of superior customer support is what keeps them loyal and stops them from going to your competition.
Using a 24/7 telephone answering service lets your customers know they are valued, but it offers other benefits as well:
Efficient Handling of Calls
Your business phone may ring for many reasons – customers and potential customers may call about your company's hours or because they want directions to your office or a clarification on one of your policies. A 24/7 telephone answering service can handle all of these issues for you, eliminating the constant interruptions of phone calls so you can continue to do what you do best – run your business.
Your remote receptionist will be trained to answer questions, record detailed messages and give your customers the answers they need without interrupting your daily activities. This makes your entire office run more efficiently.
After-Hours Support
Today's business world operates 24/7. Although your office doors may only be open from nine to five each day, your customers are still active. They are Googling your business online, checking out virtual catalogs and researching local businesses through their smartphones, tablets and laptops at all hours of the day. Your business must be ready to respond to their needs at any time, even if it is after you have clocked out for the day.
A 24/7 answering service ensures that your customers are heard and taken care of at all times, no matter when they reach out to your business. A representative is always there, even when you cannot be, ready to take calls and respond to customer needs at any time, day or night. This makes your customers feel valued and helps build trust in your business.
Easy Appointment Scheduling
If your phones are ringing off the hooks with customers trying to make appointments, you can avoid the hassle of scheduling by delegating the task to your answering service. Instead of spending your time trying to find times and dates that work for both your client and your business, your remote receptionist can get the job done quickly and efficiently.
Gaining a Professional Image
A live answering service can boost your company's reputation and help it develop a more professional image. For smaller companies that are just starting out, this can be invaluable when it comes to impressing potential clients.
An Affordable Solution
Live answering services are an affordable solution that can fit the budget of nearly any business. Answering services deliver all the benefits mentioned above but without the huge price tag of creating your own in-office call center. Instead of spending money hiring and training employees, setting up and maintaining a complicated infrastructure and using part of your office space for a call center, you can partner with a 24/7 answering service and reap all the benefits while saving money.
Learn more about our custom call center solutions and how they can help your business' budget at http://www.continentalmessage.com.
Author Bio: I am Gere Jordan, the Business Development Associate at Continental Message Solution, an award-winning call center and live answering service. I blog about a variety of topics including Small Business, Lead Generation and Online Marketing, I would love to connect with you on Google+ or LinkedIn.