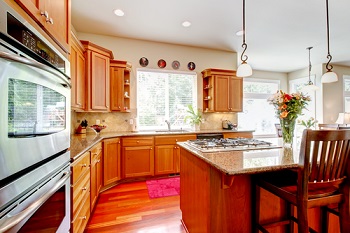 The kitchen in your home is likely where you and your family spend a majority of the time – whether it's cooking, baking, or eating together. Because so much time is spent in this area, it's important to enjoy it. Even the smallest of kitchens can be revamped into a charming space.
There are a variety of things that you can do to renovate your kitchen space on a budget, like investing in discount refrigerators and other outdated appliances and purchasing used kitchen furniture from eBay or Craigslist. From painting the cabinets, swapping out handles, installing shelving, dressing up your walls, or investing in carpets, check out five creative ideas to spruce up your kitchen environment on a budget below.
Paint the cabinets
Are your cabinets looking a little lack-luster lately? If you're dealing with dated cabinets or you're just not loving the dark wood, why not add a fresh coat of paint? A few coats of white paint, along with some distressing details can make for a rustic-looking nook. Be sure to coat your cabinets with a primer that's stain-resistant and allows your cabinets to be cleaned without chipping.
Swap out knobs and handles
This is a simple, inexpensive way to update your kitchen a bit and add a little bit of unique-ness to the area. Swap out old, plain cabinet knobs and drawer handles with an updated option. Sometimes such a small change goes a long way!
Purchase some carpets and mats
Looking to add a little bit of color to your kitchen? Check out some fun patterned or brightly colored area rugs or small mats to brighten up your space and customize your space. A few bright colors like red, yellow, or greens can make your kitchen look more welcoming. Even just a few mats in prime "standing spots" like the sink, counter, refrigerator, etc. can do the trick.
Install shelving
Not only will shelves help make your kitchen area look more interesting, but they provide great storage space for little knick-nacks, spices, and jars that you're never quite sure what to do with. Rather than cluttering your pantry or cabinets, show off some cute mason jars or fancy kitchenware to your guests!
Dress up your walls
Add some wall décor around the area to make the space look more interesting and customized. Opt for a large, unique clock or some fun framed prints that match the color theme of the area. You can give volume to the walls behind your countertop by adding a wall covering; there's a variety of choices out there in unique patterns, like bricks, metallic effects, quotes, or landscapes.
These are just a few unique ways to upgrade your kitchen on a budget but if you find that some appliances are a bit TOO outdated and you're on a budget, you should invest in a discount refrigerator, stove, or other appliance. When it comes to décor, oftentimes less is more and small changes can make a huge difference in the aesthetics of your space.
Laura is a writer currently residing in Michigan. When she's not writing, she enjoys spending time with her friends and family, running, and interior design.