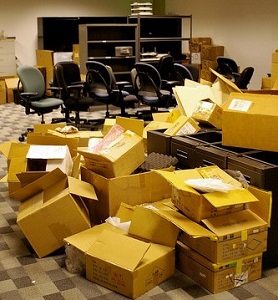 If you are looking to move your office, or company, to new premises, then you need to make sure that you organise things so that the move goes with as few as problems as possible. This means that you will need to make yourself a plan of attack, and do this well in advance of the move. This will mean that you can move premises, with as little disruption to your business, as possible.
You will also need to decide if you are going to do the majority of the moving using your employees, or if you are going to use the services of a professional moving company.
Choosing the Best Time to Move
There are many things to take into account when looking at a date for moving your business. This is also going to be affected by what type of business you have. If you run a service based industry which normally operates from Monday to Friday, then choosing a day on the weekend may be the best option.
Alternatively if you operate the kind of business where customers visit your premises throughout the week, such as a restaurant, you may need to choose to move on a day during the week, when you usually have fewer customers. If you are looking to utilise the services of your employees, and this is going to be done out of normal working hours, you will also need to take into account their availability. Once you have chosen your date, you are ready to start planning.
Supplies for Moving
There are some basic supplies which you will need to purchase before the day of your move. By getting these supplies in well in advance of the day of your move, you can start packing up non-essential things into boxes.
Moving Boxes
Packing Tape
Marker Pens
Packing Material
All of these materials are easily available from companies such as the Moving Box Company, and you can get these delivered directly to your office, or place of business. It is always best to overestimate your requirements and get a few extra boxes, rather than not have enough.
Getting Packed
As previously mentioned, you are best off packing up as much of the non-essential things that you can prior to the day of the move, this should mean less work to do on the actual day of moving. When it does, come to moving day make sure that you assemble your boxes correctly and use plenty of tape on them. Pack the heavier items in the bottom of the box and use packing material where needed to protect delicate items. Make sure that you do not put too much in the box as you need to keep in mind that you still need to be able to lift it without hurting yourself!
Once you have packed and sealed up a box, use a marker pen to write the place the items came from, and a short description of the contents, this will benefit you when you come to unpack everything at your new place of work. Once everything is all boxed up and ready to go, you can either have the removal company carry everything to your new premises, or hire a vehicle and take them yourself. Before you know it you will be ready to start a new chapter of your business, and will be ready to open your doors to the staff, and customers, alike.