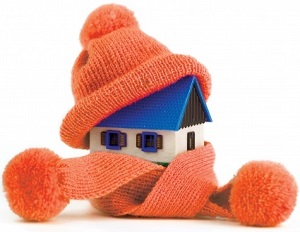 We all know that a cold house is no home. However, during summer we forget the need to plan for winter and by the time the frosty season comes it's too late. Selecting a solution can even be confusing – for instance, do I need to be looking at gas or oil boilers? It's enough to make your head spin. You can get out of this vicious cycle by acting now, because there's no time like the present.
Let's take a look at some options for staying warm in cold weather.
Don't Debate, Insulate
Installing insulation in your home is perhaps the most cost-effective, permanent solution to a cold house. It functions by confining the warm air inside during winter, and even acts in the reverse; keeping you cool during the summer.
Traditional Fire
The most basic home-warming system is a good old fashioned open fire. Houses not blessed with a built-in hearth can install a freestanding fireplace or wood burning stove, neither of which requires a brick chimney.
If you can't bear the smell of smoke or the maintenance involved in a real fire, a modern gas option will work equally as well.
Gas and Oil Boilers
As part of a central system, these units raise the temperature of water or steam and then circulate it throughout your home utilising a closed circuit of pipes. Installation is an expense, but you'll save money on your bills in the long run, particularly if you live within range of piped gas. In the U.S.A. a similar system is used involving furnaces that circulate hot air.
Heaters aren't for Cheaters
A cost effective temporary solution is to select one and move it from room to room with you during winter. Due to their portability they make an excellent investment. However each kind has its flaws:
Oil is an economic solution when hot, but uses more electricity when powering up
Gas needs to be refilled regularly, and may emit a gaseous smell
Electric can be a fire risk, and dries out the air unpleasantly
Air Conditioned Dreams
Some of these rather expensive units have the dual function of raising, as well as lowering, temperature. As they generally have a sensitive thermostat, achieving a fixed comfortable temperature becomes much easier. Free-standing units are available, which are portable and do not require installation.
Solar Powered Coziness
Solar powered temperature control means more than just creating a new skylight so that more sunlight enters your house, although that might warm it up a little. What this involves is reducing your homes climate control load to a level where electricity derived from solar panels can effectively work. These are normally roof mounted, and are initially expensive. However, you may have the option to sell unused electricity generated back to the grid, if your local municipality supports this scheme. This method is very popular due to its green credentials.
The Last Word on Warmth
After careful examination, central heating via a gas or oil boiler seems to be the most cost effective way possible to warm up the home. The only expenses you'll encounter are the occasional spare parts for your boiler. Optionally, you can save even more by adding solar panels to your home to reduce electricity costs, unless the sun stops shining, you'll always have power. Begin the process in your house, or get the cold shoulder this winter.
Adam is a DIY enthusiast and primary school teacher. When he is not finding things to do around the house, Adam enjoys spending time with his wife and two daughters.