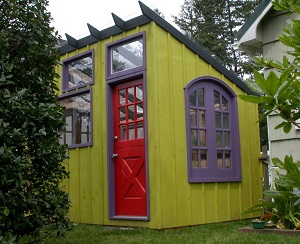 Should you require room for storage, of some excess belongings, or to act as an office, garden sheds are an excellent alternative. Whether it's building up or buying your own garden shed, there are both advantages and disadvantages tied to both options.
Below are some highlighted advantages and disadvantages of each choice that will help you to determine the best option to suit your needs:
Building up a Garden Shed; Advantages & Disadvantages
As the shed builder, one has to have extreme control and knowledge in regard to its design which is vital in order to build a shed that will serve your exact requirements. In addition, the building cost will be slightly cheaper since you will only require purchasing the tools and materials. Aside from the reduced expense costs, you can determine your own schedule of building progress, which at times can be remarkably faster as opposed to having it built by a professional.
Often a professional will handle other projects as well and may not be fully dedicated to completing your specific project. In order to construct a well designed and efficient shed, one has to be equipped with the skills, proper tools, and expertise for construction which not all people have.
As much as you might possess more creative dominance, it will require you to dedicate a great amount of effort and time in the shed's building process. Also, you will need to determine the intended use of your shed and the most suitable building materials for it. For example, do your needs require one that can stand all weather conditions. Before you intend to build a shed of your own, you should prepare to see through the entire project, which needs some careful planning and organization. In short, have a plan of what you want to build first before the actual construction.
Buying a Garden Shed; Advantages & Disadvantages
Buying a garden shed is much more convenient as opposed to building up one in that it doesn't consume much of your time or effort. Also, there is a guaranteed assurance that your shed will be built properly since it is done by a professional. They will advise on the most suitable materials for your end use as far as durability is concerned. The down-side to it is that it costs more than constructing one yourself. Although it saves you time, the expense is far greater than building one especially since you will have to pay the professional contractor undertaking the task of building it and the building materials as well.
Additionally, you will have no creative control to it when it comes to the garden shed construction. All in all, be ready to spend more money and determine the final plan of use for your shed early before you commence the buying of the shed.
Some of the common materials used for garden shed construction are:
Wood– this is a material with the most aesthetic value, however, it is also the most expensive and challenging for project use. Wood sheds require protection to repel fungus, rot, weather damage and insects.
Metal– is much cheaper compared to wood and is less vulnerable to insect and fire damage. However, sheds made from cheaper metal will rust with time, so for added resilience, use aluminum. Metal sheds are not very pleasant as far as their aesthetics go and the protruding sharp corners may pose a health risk to infants.
Plastic– is the cheapest material option and is tougher and lighter than wood. It also needs the least amount of preservation since it resists almost all forms of destruction, such as rot and insects. However, the plastic sheds offer minimal decorative or design options as provided by wood or metal shed.
Vinyl– this is a better option than plastic or metal since it is much stronger. Nonetheless, it is a bit costly. For a shed that withstands weather conditions, vinyl is a good option. However, you must also be willing to spend slightly more.
So if you have more money to spend and know nothing about construction, buying might be a better option for you but if you have the will, effort and time to dedicate to it, building a shed might be the choice for you. The decision is up to what best suits you.
The author of the article is James Franklin who has unveiled some information comparing two alternatives in this article. But all depend on you. The writer is grateful towards Easy Shed Store for giving him the ideas how a person can be benefited if he buy garden shed.