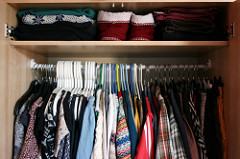 It is almost time to start looking forward to the spring season and to say goodbye to the wet and windy winter. The change to spring is the perfect time to do a bit of organising around your house. Cleaning the wardrobes is never something you want to do but it can really help sort out your clothing.
Here are five simple steps to get your whole family's wardrobes cleaned this spring.
1. The Preparation
You need to do a few things first in order to prepare for the clean up process. It is essential that you prepare some boxes or plastic bags to place all the unwanted items that you are going to throw away.
Make sure you prepare these as it will guarantee you don't just stuff the items back since you got nowhere else to put them.
You should also make sure you have enough time for the whole process. Depending how many children you got or how big your wardrobes are it can take anything from just a few hours to a whole afternoon.
2. The Cleaning
Once you got the preparations done it is time to start cleaning. Select the first wardrobe and just take everything out. Don't start thinking about the items there, just pull out everything and completely empty the wardrobe. You can either go one wardrobe at a time or just clear all of them first.
You should then vacuum the wardrobes from top to bottom and wipe all the surfaces clean. You can make a simple homemade cleaning mixture to guarantee the surfaces get clean and fresh in a natural way.
3. The Decision
This next step is perhaps the hardest part of cleaning the wardrobes. It is all about deciding what stays and what goes. It is a good idea to divide your items into four different categories. The first category is for clothes that you definitely want to keep, the second for clothes that you aren't completely sure about and the last two are for items you are going to throw away.
One pile for items you give to charity, for example Clothes Aid takes donations, and the other pile is for items that are beyond repair.
It is important that when you are cleaning your children's or husband's closet you get them involved in the decisions. You don't want to throw away their favourite items.
4. The Shopping
While you are doing the third step it is a good idea to keep in mind the items you might need. For instance, have a pen and paper at hand and write down any items that you feel like you are missing out. Perhaps you'll throw away so many children's socks that it is time to stock up on them.
A great shopping option for families is to consider wholesale clothing retailers. They often offer affordable kids wholesale clothing as well as clothes for both men and women.
5. The Organising
Once all that is done you just need to place the items you'll keep back into the wardrobe. You should organise them in an effective way and utilise boxes and labels to make it easier to keep the whole wardrobe in order later on.
Tina Spitzer is really interested in finding little tips to make household chores just a little bit more interesting. She is really passionate about DIY solutions and she loves to make eco-friendly choices.