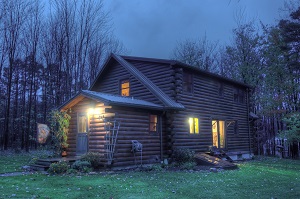 If you've always dreamed of owning one of those amazing log homes you see in the movies or while camping, you're probably primarily deterred by the daunting processes of 1) raising the funds, 2) designing your home, and 3) choosing the best location. Some steps may come easily while others take a bit of time and creativity. But there is some simplicity in finding a location that fits your needs.
Here are six of some of the top spots for building log homes.
1.      Lake Anna, Virginia
Lake Anna is a man-made lake that fosters a very natural environment in a rural community. While the public side of the lake is near cold water, the private side is graced by a warm current that keeps the water swimmable. This is a great spot for those who want the natural environment with a sense of community involved.
2.      Washington Island, Wisconsin
This little island is a great cultural center, with a little "downtown" where community members find each other and connect. It's also great for those who romanticize about weathering harsh winters in the warmth of their log cabin, while still being able to walk along white-pebble beaches in the summer.
3.      Wapiti, Wyoming
If you're a fan of the wildlife, climate, and plant life of Yellowstone National Park, this is the place for you. Not far from the park itself, it is situated in a very remote part of Wyoming with clear streams and high pines. The nearest metropolitan area is 234 miles away, perfect for any modern-day maverick.
4.      Harney County, Oregon
Harney County is a great area for those who want to live amongst wildlife. It is home to over 300 species of birds, as well as one of the largest antelope refuges in the country. And for those who love remote spots, it might not get any better than this: Harney County is the most sparsely-populated county in the continental United States.
5.      Fairhope, Alabama
For Southern lovers looking for a mild-weather cabin, Fairhope may be your spot of choice. Situated along the cliff line of the Mobile Bay, it sports beautiful ocean views with mild winters and hot, humid summers. The nature of the climate encourages a slightly different angle on log cabins, and may be a great option for those log cabin enthusiasts with a bit of a warm-weather tendency.
6.      Park City, Utah
A perfect blend of sporty and artistic, this is a community perfect for those looking to stay involved in culture. Park City is home to the Sundance Film Festival and many art galleries, while also sporting Olympic-class slopes for the most adventurous skiers. While it is not the cheapest place to live, it is well worth considering for any log home builder who is concerned about landscape and community.
While there are countless other spots that are worth considering for your log home, these are some of the most promising. Wherever you choose to build, make sure your design reflects what you desire most out of a log home, and use the location you choose to fuel your inspiration!
Victoria Ramos studied business and now blogs about developments in the field, as well as her other interests. She loves shopping, socializing, hosting parties, decorating, and writing. If you are interested in building or finding more information on log homes, visit Harrison Log Homes for more help.