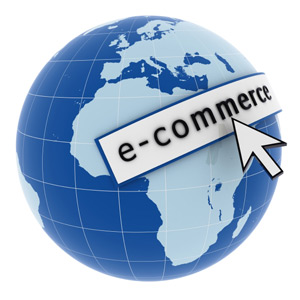 E-commerce is a business or commercial transaction that involves the use of the Internet as a medium to transfer information. Many different types of businesses are conducted via e-commerce; auctions, trade and retail.
E-commerce is gaining importance by the day. Every day more businesses move large sections of their commercial and business activities online. It allows consumers and producers to overcome barriers of distance and time and interact with each other.
E-commerce allows companies to establish many ad-hoc links to provide effective interaction between buyers and sellers. As a result of e-commerce, now there exist e-stores and e-markets where customers and producers are able to find each other.
Reaching Home Consumers
With the advancements in technology, almost every household has Internet accessibility and more than one computing device (smart phones, laptops etc.). Because so many businesses have moved their business activities online, the potential customers are no longer willing to spend hours in the market, going from one store to the other, looking for the appropriate product, when they can just as easily gain access to all kinds of information from the comfort and privacy of their homes.
Not only gain information, but the consumers can also select and buy the required product and pay for it all online. Then all they have to do is wait for the shipment to arrive. In case of queries or confusions, there is no need to personally approach the customer care agents of the company; simply email them on the email address provided on the company's website and resolve your issues. This makes the lives of all buyers (and sellers!) easier. Problems are more easily tackled via the Internet, than in person when so many people may be rushing to get their answers.
Going Global
E-commerce has made international business and commercial transactions very easy. For a store in Canada, you don't have to fret; you can just look at the company's website, go through the list of their products, select the one you like, order it, pay for it and then receive it. You may have to go to a particular location to get the item, but the cost of that is minimal compared to the cost of travelling abroad just to visit a store! Some companies offer the benefit of free shipment and tracking which ensures that your package arrives at your doorstep. However, those "extras" depend on the policy of the company.
Online Promotion
The cost of making and then promoting online stores is much less than that of establishing real brick-and-mortar stores and advertising for them. In this way, businesses are able to save money on overhead and invest it in other projects. Many buyers look online for the required product even before they visit a store. This helps them decide what they require so all they have to do is go to the store and get it. In this way, even if a potential consumer only visits your site for this sake, they will at least know about your business. They may consider buying from your e-store and may even recommend it to other friends. In this way, you are actually getting free publicity.
Software
Many kinds of software are out there that can help you establish your e-store. Some of these software applications are customizable as well so they can provide the interface and design that you want for your e-store. Using customizable software helps you save money, and is effective in helping you maintain and manage your e-store. You can start your store by first determining a product that is easily available in the market, but difficult to find online. You select this product and start selling it via your website. Get payment for the product online as well, then, ship the product to the consumer.
E-commerce, if done properly can be very rewarding. However, you do not reap fruits overnight. You must do a lot of research first; you will need to have a lot more than intuition to rely on before you can actually start e-commerce. You can learn by doing thorough research. Once you have sufficient knowledge and are in a position to make difficult business decisions, then you are ready to take on this challenge.
Robert Gregory is a freelance writer and would love to write on technology, web development etc. In this article he describes the use of technology in ecommerce business. When he wrote this article at that time he took help from Pos'99.com.au and grateful toward them for that.