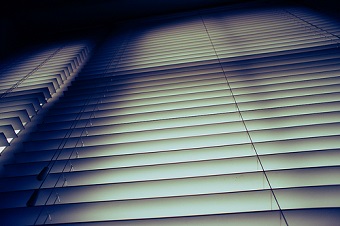 When it comes to decorating your windows, blinds are generally a much better option. This is because it is much easier to keep them clean, and with the customization this is possible, are easier to match to the decor of the room you are decorating.
There are many different styles of blind available, made from a range of different materials:
• Wooden Blinds
• Metal Blinds
• Fabric Blinds
• Roller Blinds
• Venetian Blinds
• Roman Blinds
• Vertical Blinds
This gives you a lot of choice when it comes to choosing some blinds for your home or your office. You can also get digitally printed blinds in Australia quite cheaply, which makes it easy to create customized blinds at an affordable price. This can include printing a company logo on the blinds, so when drawn you have advertising in your windows.
Choosing your Blinds
When making a choice of blinds, you will need to take into account the current decor of the room you are decorating. For a modern and clean style of decor, metal blinds may be the finishing effect that you are after. For the warmer feel, you may wish to consider wooden blinds, which can have a cosy effect on a room.
Something to take into consideration is the privacy and amount of light you wish to block out of the room. A bedroom may require a solid material, which gives more privacy and blocks out more light, meaning the early morning sun is less likely to wake you up. You may wish for something that blocks out some of the light, but still lets some light in, fabric blinds are good for this and make a good choice for an office or work environment. The bonus for these is it is also easy to get them custom printed, so when the blinds are closed you can advertise your business through your window.
Choosing the Best Colour
For the best colour option, you will need to take into account the space that the blinds will be in. Darker colours can give the illusion of the space being smaller, as can lighter colours create the illusion of more space. A good combination of the both can give a visually stunning effect, such as light coloured wall and ceiling, with dark wooden blinds.
Again you will need to think about the atmosphere of the room before choosing your colour scheme and appropriate blinds. Are you trying to get a clean and clinical style of finish, or are you looking for the homely affect? With digital printing, you will also be able to customise the colour of the blinds exactly, which can help make sure that the blinds fit perfectly within your colour scheme. Custom printed blinds in Australia are becoming more popular all of the time, especially with printing prices becoming more affordable.
Getting the Correct Size Blinds
It is very important to make sure that you get the correct size blinds, to make sure that they cover the space correctly, and do not leave gaps where light can come in, and people can also see in when it is dark, and the lights are on. You can measure the area yourself, but most companies will offer you a free measuring service, which will make sure that the blinds are customized to the correct size for the area that you are covering.
Being a few inches longer, or wider, can have a big effect on the overall finish and practicality of your blinds. Let a professional do the job, and make sure it is done correctly.
Christina Goodall is a mother of four children, as well as an Interior Designer, and Home Improvement Consultant. When Christina is not working or looking after her family, she likes to share her ideas and thoughts in the articles that she writes. She is always looking for the next big thing in terms of interior design, to share with her friends, family, customers and her readers.