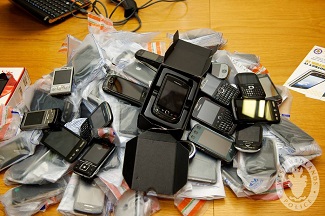 Do you feel safe using your smartphone in public? For many people, their smartphones are like an extension of their being, and most of these people continue to use their devices in public without considering the safety implications.
Unfortunately, smartphone theft has become one of the most commonly occurring crimes in many urban areas in recent years: according to statistics from Consumer Reports, about 1.6 million Americans had a smartphone stolen from them in 2012 alone.
Now, politicians in California are looking into attacking the problem of smartphone theft at its source by introducing legislation that would require mobile devices to include "kill switches" that would allow the devices to be shut down after they've been stolen. The legislation, which was introduced by state senator Mark Leno of San Francisco, argues that making the kill switches mandatory on all mobile devices sold in California will help decrease smartphone theft by making it more difficult to sell stolen phones, and therefore taking away the incentive to commit the crime in the first place.
According to Jason Hope, the California legislation is an encouraging sign that government agencies are finally taking action to protect smartphone users.
"We're at a point in society where there's a Wild West mentality out there surrounding smartphones," said Mr. Hope. "Smartphones are such an attractive target for criminals because almost everyone carries one, and right now, they're very easy to sell on the black market, which makes smartphone theft a crime that does pay. This legislation was sorely needed."
California is an appropriate place for the first kill switch legislation to be enacted, as several cities in the state have had particularly bad problems with smartphone theft. In Leno's home city of San Francisco, a tech-savvy city where people spend a lot of time packed tightly together on public transportation, mobile device theft accounted for about half of all robberies that occurred in 2012, compared to one-third of all robberies for the nation as a whole.
In Los Angeles, the most recent figures available show that mobile device theft shot up 12 percent in 2012. Local leaders there, like Mayor Eric Garcetti and Police Chief Charlie Beck, have been supportive of the new legislation. Garcetti wrote legislators personally to encourage them to vote in favor of Leno's proposal, saying that it was critical to reducing robberies.
Smartphone theft is not just a problem in California, however, and anti-crime advocates are hopeful that the California legislation will start the conversation on how to protect smartphone users across the country.
The thefts have also become a safety issue in many parts of the country, because while they start out as property crime, they frequently end up as violent crime. For some smartphone users, the very act of having a smartphone in public has resulted in serious injury or death. Paul Boken, an Illinois man whose daughter was murdered in 2012 when an armed man tried to steal her smartphone, has become a vocal advocate for making kill switches mandatory, and has expressed his support for Leno's legislation.
While theft deterrent technology like the kill switch has been available for years now, many, including San Francisco District Attorney George Gascon, have criticized wireless companies for not doing enough to put the technologies into widespread use sooner. Now, the California legislation could take that decision out of the wireless companies' hands by making the kill switch technology or similar protective measures mandatory on all mobile devices. Leno's proposed legislation calls for the mandatory kill switch ruling to take effect in California starting on January 1, 2015.
According to Mr. Hope the legislation comes at an important time, as the rate of adoption of mobile and wearable technologies is unlikely to drop off any time soon.
"Our use of mobile technology is only going to become more pervasive in the future," said Mr. Hope. "People aren't going to stop using technology, so it's important that we do something now to get our arms around this problem while we still can. I applaud the California legislature for their initiative on this one. It shows that they are willing to stand up to protect the rights and safety of technology users in their state."
About The Author: Amy Taylor is a technology and business writer. Amy began her career as a small business owner in Phoenix, Arizona. She has taken that knowledge and experience and brought that to her unique writing capabilities. She really enjoys new business related issues that are tied directly to technology.