Experts at Dundee University's Institute of Motion Analysis and Research develop new arthritis treatment that reduces pain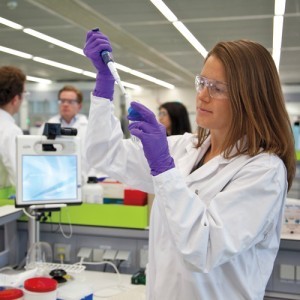 Lots of people around the world suffer from arthritis. This condition causes pain and inflammation within joints and it can be experienced by people of any age, including children. NHS figures suggest that in the UK alone, around ten million individuals have arthritis.
There is no cure for the condition, but people can take action to slow its progress and to relieve the discomfort. For example, certain exercises can help, and many individuals take special nutritional supplements.
New development
Meanwhile, sufferers may be watching with interest research that is being conducted in Britain. Scientists at the University of Dundee have been working on a form of laser therapy, with encouraging results.
The team suggest that their revolutionary light-based treatment can dramatically reduce the pain of arthritis. Their technique involves targeting sore joints with a powerful beam of light. It stimulates the same pressure points that are used in acupuncture. However, rather than relying on needles, it utilises low-energy lasers. This could be safer and more popular than acupuncture because there is no risk of infection and the treatment is more acceptable to those with a fear of needles.
The light beams are thought to stimulate the release endorphins, which act as natural painkillers.
Details
Researchers from Dundee University's Institute of Motion Analysis and Research enlisted a total of 49 patients with osteoarthritis for their study and split them into two groups. One group received the proper laser treatment, while a control group were given a zero-energy laser designed to provide a placebo effect.
Each patient had his or her pain levels measured on a scale of one to ten at the start of the trial. They were then given laser treatments nine times over a period of six weeks. They also exercised during this time.
The results, which were published in the journal Physiotherapy, revealed that pain scores among those given the laser treatments fell by an average of 1.3 points, with some dropping by up to 2.4 points. In contrast, those given the placebo treatment reported no improvement.
In conclusion, the scientists stated: "Short-term application of low-level laser therapy, in association with exercise, is effective in reducing pain and improving quality of life."
Welcome news
Meanwhile, speaking to the Daily Express, Judi Rhys from the charity Arthritis Care said: "We welcome any good news that shows how people might ease the pain of osteoarthritis. This study has a positive outcome but, as always, the challenge is to ensure that once a new treatment has been identified it reaches as many people as possible."
Heading online
Anyone who is keen to invest in health supplements to help their bodies fight the effects of arthritis can now head online to search for the relevant products. It is quick and simple to access high-quality products in this way.
By perusing their options in cyberspace, people can ensure they benefit from a broad selection of supplements, and they stand to save money too. Meanwhile, this form of shopping can be particularly useful to individuals who suffer from mobility problems due to arthritis.
About the Author – Anna Longdin is a freelance blogger who has written extensively about health issues for a range of websites, including Simply Supplements.