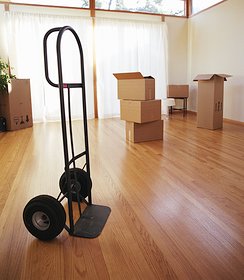 A lot of terrifying stories have been told about the moving industry. Inflated charges, goods that arrived damaged and long distance shipments that took forever to arrive were discussed in the media and in review websites to no end.
How can you tell the good moving companies from the bad and protect your rights? The answer has to do with careful research and an understanding of the way the moving industry actually works.
Checking the Reputation of Potential Moving Service Providers
The first thing you should do is check whether or not the service provider you are considering is an actual mover or a broker.
A lot of brokers do a great job of hiding the fact they are not an actual mover, but a service which will simply pass on your scheduled move to another company of which you know nothing.
Prefer companies that have a physical location in your area. Ask for the mover's address and pay a visit to its headquarters to check their storage, see their trucks and their offices.
Ask for license numbers and check them out online. You can use this link to check the mover's licenses and get an overview of complaints and violations.
Make sure that your potential moving service provider is registered with the Better Business Bureau and has a good rating.
Don't listen to sophisticated excuses. If you find out the potential mover has violations, complaints or a bad Better Business Bureau rating, take your business elsewhere.
Getting Moving Estimates the Right Way
The only way for you to get a proper moving estimate is to have a company representative come to your home, review all the items that you intend to move and provide you with a written estimate. Such an on-site inspection is used by all professional service providers.
Again, don't listen to sophisticated excuses about why the mover cannot come over to inspect your goods and provide you a binding estimate. The only reason for such tactics is to leave the door open for extra charges.
Make sure that the estimate you received includes all the packing services and packing materials that you may require. Some movers use packing services as a way to add inflated charges to the total price.
Read the fine print and ask for explanations about extra fees that may be applied, such as access fees, added packing fees, certificates of insurance and so forth.
Insist that all the information, approximations and details will be provided to you in writing and in detail before you actually schedule a move.
Researching and Understanding your Right and Responsibilities
In an attempt to help consumers defend themselves against corrupt moving service providers, the Federal Motor Carrier Safety Administration now publishes several official guides that clarify the rights and responsibilities of both movers and consumers.
The guides will help you to understand how you can protect yourself from moving fraud and how to increase your awareness and get all the information you need about your moving rights.
By Guy Cizner
Guy Cizner serves as the house writer for Alpha Moving and Storage and is a veteran blogger and online marketing expert.