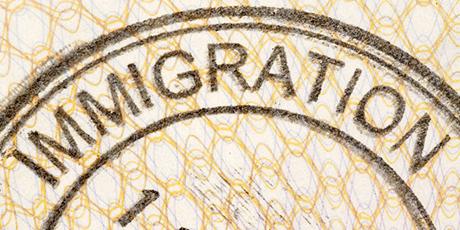 Immigration is an increasingly contentious talking point and political policies surrounding this issue always make noteworthy news stories. The parliamentary bills that police immigration laws are increasingly affecting the wider community and none more so than that currently being debated in the House of Commons.
Rather than increasing border controls, much of the debated legislation proposes measures that will help to make it increasingly difficult for people to stay in the UK when they have no legal right to reside. Living in the UK is likely to get tougher for illegal immigrants, who will find it increasingly harder to set up home. In essence, more individuals will face increased checks in order to ascertain their identity, the upshot of which may result in deportation.[MH1]
Landlords to potentially face fines
One group to be charged with carrying out some of these additional checks is private landlords. The Immigration Bill will force private landlords to scrutinise their tenants' status. Landlords will be required to check their tenants' documents and those who fail to do so will face hefty fines.
Failure to make the appropriate checks will result in fines of up to £3,000. First time offenders will be forced to pay £1,000 per illegal immigrant in their property and this rate will rise to £3,000 per person for repeat offenders.
The Home Secretary has suggested that the checks will merely constitute landlords asking a series of simple questions. However, in response, others have suggested that forcing private landlords to check the immigration status of potential tenants will be an unworkable practice.
The impact of the legislation
The likely impact of the Immigration Bill does not appear to have been particularly well-received by landlords. The Residential Landlords Association has been cited as saying that "there are 404 potential European identity documents alone, never mind those from further afield". The potential for falling foul of the Bill's legislation would therefore seem particularly pertinent.
In addition, many who oppose this prospect also voice their concerns regarding the potential for discrimination. Despite the legislation stating that landlords must approach the checks on a non-discriminatory basis and without making assumptions, those in opposition fear a backlash of bigotry. The process of checking immigration status may be confusing and as such landlords may steer clear of letting properties to those who do not appear to be of British origin. This may make settling in the UK increasingly difficult, even for those who have every right to reside in the country.
The finer details
The landlords' procedure for checking prospective tenants will be based on the established system used by employers to verify the status of potential employees. Prospective tenants will have to produce paperwork from a list of acceptable documents and landlords will be required to keep copies for their records. If a prospective tenant is unable to produce the appropriate paperwork, the landlord should refuse to rent the property in question. However, perhaps controversially, the landlord is under no obligation to contact the Home Office should suspicions arise concerning an individual's legal right to live in the UK.
Catherine Stewart works in property management and currently advises Vita Buy to Let Accommodation on a freelance basis. She has extensive knowledge of the buy-to-let industry and enjoys sharing her experiences with investors and landlords.