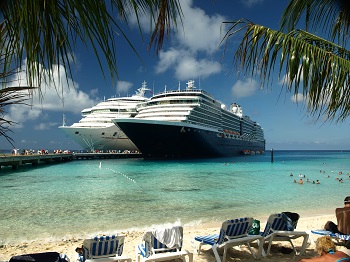 Has the local employment market beaten you so flat that you think your only alternative is to look for work overseas? Emigrating is a big decision and one that not everyone is prepared to make. Fortunately, there are other, less permanent, options that could solve your employment crisis while still taking you offshore. For instance, you could work on cruise ships.
Working on cruise ships will literally broaden your horizons. You'll get to travel to exotic destinations, see amazing sights, meet new people and earn good money. In return, however, you need to be prepared to work very, very hard. You won't be treated like a slave (at least not by any of the reputable cruise liners) but you will have to work seven days a week and it's unlikely that you'll get many (if any) full days off.
However, you can usually count on a few decent hours of downtime per day, and you get to spend them doing some of the same things that the guests have paid exorbitant sums of money to do.
Are cruise ships for everyone?
Cruise ships offer opportunities for everyone, no matter what their age or level of experience. This means that they are ideal for high school graduates about to embark on a gap year, university graduates looking for adventure before they settle down, professionals on sabbatical and even professionals looking for a change of scenery. You can view it as a temporary solution – something that will give amazing memories and a handy reserve of cash, or as a permanent career move.
Interestingly, many people think that they'll only serve out one contract, but they end up enjoying it so much (despite all the hard work) that 20 years down the line they're still hoping to hear that their contracts have been renewed.
So, what types of jobs are available?
Just about anything you care to imagine, really. Cruise ships are like self-sufficient pockets of humanity. To survive, they need something of everything.
Jobmonkey.com divides the types of jobs available into four categories:
1)     Activity and Entertainment: These are the people who keep the guests happy 24/7, including cruise directors, performers, shore excursion staff, and swimming/dance instructors, etc.
2)     Deck: These are the people who keep everything shipshape, including maintenance, engineers, and safety officers, etc.
3)     Service and Hospitality: These are the people who see to it that every guest's every need is seen to, including waiters, bar tenders, housekeeping and shop staff.
4)     Wellbeing: These are the people who ensure that guests (and staff and crew) stay happy and healthy, including gym instructors, personal trainers, massage therapists, beauty therapists, doctors, nurses, and pharmacists, etc.
Paul Motter says that employees are divided into two broad categories:
1)     Staff, which tends to include managers and supervisors.
2)     Crew, which tends to include the people who make stuff happen.
He also divided employees into two departments, each with its own staff and crew:
1)     Ship, which includes the people who handle navigation and daily operations, such as deckhands, painters, and engineers, etc.
2)     Hotel, which includes the people who oversee overall administration and guests' comfort, such as cruise directors, pursers, chefs, housekeepers, cabin attendants, counsellors, childcare providers, stage managers, performers, fitness instructors, and waiters, etc.
Finally, Motter says that there are also concessionaires, who are neither staff nor crew and who don't, technically work for the cruise line, but who work for companies contracted by the cruise line. Jobs in this category include the staff working at the medical centre, casino staff, shop assistants, salon workers and photographers.
Working on a cruise ship is not all about glitz, glamour and fraternizing with rich guests. It's about hard work, commitment and dedication. Like all industries, there are pros and cons, but if you have an adventurous spirit and genuinely enjoy working with people, then life on a cruise ship might just suit you to a T. At the very least, cruise ships provide a way of working abroad without actually changing residency.
Jemima Winslow feels conflicted whenever she thinks about working on cruise ships. On one hand, the money is not to be sniffed at. On the other, she's seen The Poseidon Adventure and knows that it doesn't always end well for the crew.