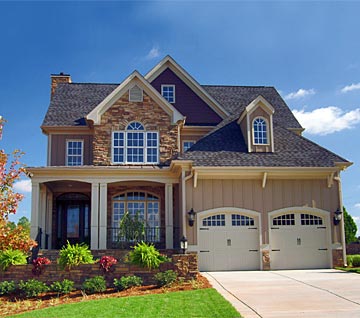 Your home is your biggest investment, and in many ways it tells the world about your success and your style. When you think about sprucing up or renovating your home to make it fit modern fashion trends, it's likely that you think about changing the interior of the house. But the exterior of your house matters just as much.
The appearance of the exterior of your house is what gives it that ever-important "curb appeal" realtors talk about, that crucial first impression when visitors show up in your driveway.
If you're thinking of updating your home's exterior, here are some of the top trends for 2014:
1. Accent your landscaping with stone.
Stone paths add a classic touch through your yard and leading up to your front door. You can also create a stone face on the exterior of your house. Because genuine stone is expensive, many homeowners choose high quality faux stone. Faux stone can be finished to look remarkably authentic. Even though it's a timeless look, homeowners in 2014 are finding that the classics are fresher than ever.
2. Grab attention with a statement door.
When your front door is painted a bright or bold color, it's called a statement door. The pop of color provides eye catching contrast to the rest of your house and passers by can't help but notice. Choosing an exciting color for your front door allows you to express your individual personality.
3. Go with basic, classic exterior colors.
In 2014, homeowners are going back to the basics with simple, classic colors. When you're choosing to repaint your exterior or invest in new siding, colors like black, white and gray are hot this year. Regardless of the color of the siding, white trim is especially popular right now, indoors and out.
4. Get strategic with exterior lighting.
Placing outdoor lights strategically throughout the landscaping in your yard is usually used as a spotlight, but the new trend is to use outdoor lights more gently. Gentle lights give a soft, romantic look and are ideal to create a sanctuary, right in your back yard. Placing lights in the soffits also creates a warmer glow. In addition, proper placement of outdoor lighting can deter burglars and improve your home security. Also expect to see many homeowners adding lighting to decorative columns around the exterior of their home.
5. Eco-friendly materials.
Concern for the environment has spilled over to home design. Builders now have access to "green" materials that have a more minimal impact on the environment at all stages, from production to disposal. Fiber cement siding is one trend which is very environmentally friendly because it is made primarily of cement. Fiber cement siding requires little maintenance and looks a lot like wood siding. Red cedar siding is increasing in popularity because it has natural beauty and is easily stained to different hues.
Updating the exterior look of your home is always an investment that pays off. Not only does it allow you to feel happy every time you come home, it also improves your sense of pride in where you live. If you're planning to sell your home in the next few years, those relatively minor improvements can also make it easier to attract buyers and to get a better price for your home. Freshening up the appearance of the exterior of your home is a smart thing to do.
Jasmine has spent many years researching and writing about the home improvement industry. She loves sharing her research and knowledge with others.