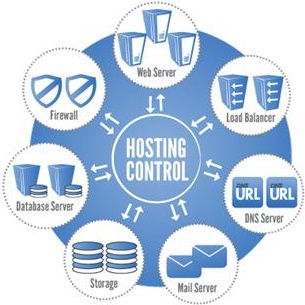 Clustered web hosting is a type of 'cloud web hosting service', which allows several servers or nodes to work together in order to provide improved performance and high availability of websites. Server clustering works with the concept of load balancing, where the load of work required to host a website is distributed across multiple servers. This web-hosting model has become increasingly popular because of the key advantages it offers.
Like any other web hosting service, there are also some disadvantages to contend with while hosting a website on a cluster of servers. It is important to understand the pros and cons associated with cluster servers so that you can know whether this web hosting solution is ideal for your business or not.
Advantages of Clustered Web Hosting
The single most important benefit of spreading web hosting services over a wide range of servers is that this allows continuity of any website at all times. The reason for this is that other servers can step in should one fail to render services. This is done by altering the flow of traffic to other servers in the group. Since each individual service is backed up across the other nodes, end users hardly notice any problems. In fact, there are automated systems in place to ensure that the cluster is not affected if it is missing one or more servers.
One hundred percent website availability can be very beneficial for any online business that requires users to access services without any interruptions. For instance, an online store that sells products or services would want customers to carry out transactions as and when needed. In case the website is unavailable when clients want to buy something, this could have a negative impact on the business. Clustered web hosting eliminates this single point of failure, which is can even affect a dedicated server in case of malfunctions.
Apart from offering high uptime or website availability, cluster web hosting is also highly scalable. The resources on this type of hosting services are never used up, and if one server is on overdrive, there are always alternatives to offer computing power. Since cluster servers have no finite capacity for traffic or storage, they can accommodate increasing needs conveniently.
Lastly, cluster web hosting makes maintenance easy. The fact that there are several servers to host a website means one server can be restarted after updating the client server software, and this will not affect site availability.
Disadvantages of Clustered Web Hosting
The only disadvantage of clustered web hosting is the cost associated with this service. Hosting a website on a clustered network is more expensive than using VPS or dedicated servers. Costs will also depend on the size of the website and the traffic it experiences. That said though, the reliability factor of clustered web hosting makes the cost justifiable.
If your website receives high amounts of traffic, and would be negatively affected if the server crashed, signing up for clustered web hosting is the best way to go. However, make sure to look for a web hosting provider that offers affordable and reliable dedicated web clustering services.
Craig William is a blogger and online entrepreneur who has a love for creativity and staying up to date with the latest trends in web hosting technology. Be sure to check out Craig's choice for clustered web hosting services at http://server.centerserv.com/.