Working in the hospitality industry offers a wide range of opportunities to suit all skills and goals. One of the more popular careers people opt for is hotel management—a career which offers the chance to travel, to build a strong and transferable skill set, and to work in some beautiful, iconic establishments.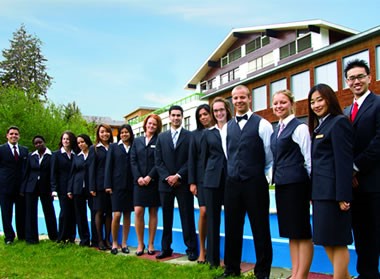 Many hospitality schools offer hotel management courses around the world, but which are the most successful? Below is a brief look at the world's top four hotel schools (based on data gathered from an online survey conducted by Taylor Nelson Sofres (TNS) in 2013.
Ecole hôtelière de Lausanne (EHL), Switzerland
According to the survey (with responses from 28 luxury hotel chains around the world), EHL was ranked the world's top hotel management school. Established in 1983, EHL offers three university-level courses: Diploma in Hotel and Restaurant Management; Bachelor of Sciences in International Hospitality Management Executive MBA in Hospitality Administration. Almost 2,000 students attend.
Les Roches, Switzerland
Founded in 1954, Les Roches International School of Hotel Management has a total student population of 1,324, with 773 of those on campus and the remaining 551 undertaking internships. Their programme portfolio includes undergraduate degrees, postgraduate degrees and MBAs: Bachelor of Business Administrations (BBA) in International Hotel Management, and Global Hospitality Management; Postgraduate Diploma in Hospitality Administration, and Postgraduate Higher Diploma in Hospitality Management, and more. Les Roches is recognised by such agencies as the Association of Swiss Chefs; International Hotel & Restaurant Association; Council of International Schools (CIS) and European Council on International Schools (ECIS).
Glion Institute of Higher Education, Switzerland
Glion Institute of Higher Education was the first private university-level hotel management school in Switzerland.  Since it opened in the fall of 1962, this has become one of the foremost establishments offering hospitality education across the globe—it is accredited by the New England Association of Schools and Colleges (NEASC) to provide courses leading to various qualification-levels: diploma; associate's; bachelor's; postgraduate and master's. Around 1,500 students from 90 countries visit the school each year, and thousands of students have found work within the hospitality industry since.
Cornell University School of Hotel Administration, New York
Cornell University is one of the world's most famous and respected institutions of higher education, and their School of Hotel Administration was founded in 1922. Featuring 60 full-time members of faculty and boasting close relations with more than 200 organisations and companies, the hotel school provides teaching in their classrooms, in their on-campus Statler hotel, and in locations across the globe.
About the Author:
Jed Whitehead writes on many diverse subjects, including hospitality management training, cookery and European history, using sites such as www.hotelschoolsearch.com for research. He resides in Devon, England.