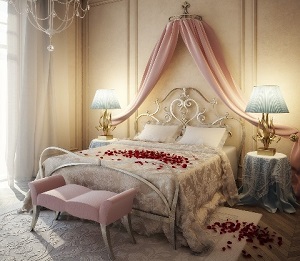 Valentine's Day may well be over but there is still chance to add the romantic touch to your home. In fact, you can inject a little passion to your home décor at any time of year, and here's five ways you can do just that.
Red Accessories – Red is the first thing most people think of when it comes to love, passion and romance. It's important to note, however, that you can have too much of a good thing. By nature, red is an intense colour, so it shouldn't be overused. Painting every wall red can end up looking a little too imposing and garish. By adding red to your interior in small doses, you add a sense of romance to the space, without overdoing it.
Red cushions, blankets and curtains are a great way to introduce evocative red tones whilst maintaining a soft and comforting vibe. Wall art, sculpture and small feature wallpaper sections are excellent methods of making a slightly larger visual statement, while also maintaining the subtlety and atmosphere of your contemporary interior.
Warm, Intimate Lighting – Lighting plays such a huge role in the psychology of an interior. Bright white, intense lighting can make an otherwise cosy room feel a little cold and cavernous. Table lamps, large or small, will provide a much more intimate level of lighting which is perfect for a romantic night in. Dimmer switches will do a similar job, but will often flicker and won't have the same aesthetic benefit than a designer brass or glass table lamp.
A Loveseat – A so called 'loveseat' is actually the name for a 1.5 seater sofa; an arm chair and a half, if you will. A loveseat is an absolute for a quiet night, cuddled up on the sofa with a bottle of wine. An added bonus is that, when you're by yourself, 1.5 seats offer an ideal amount of space for one person to lounge on.
Finding the perfect loveseat, sofa or chair is all about stringing the perfect balance between contemporary style and comfort. Spending a relaxing evening with your other half demands comfort, so a soft leather or felt sofa should do the trick. Bright colours such as red or pink might seem like they will add to the romantic feeling of your living room, which of course they might, but it's quite likely that you'll regret making such a bold statement using such an expensive piece. Try relaxing, neutral colours, then accent the loveseat with red cushions and throws.
Store the distractions away – Magazines, books, TV, DVD and video games are all common and entertaining parts of home life, but they shouldn't be the main focus of your living room. Designing a living room to revolve around your home entertainment system might be ideal for watching a movie, but falls flat when you want the attentiveness, eye-contact and conversation which make up a romantic evening in. By all means watch a movie, but make sure your TV and other technology isn't displayed so prominently that it interrupts the flow of the style and atmosphere of the room.
Fresh flowers – You don't have to scatter rose petals across the bed (although more power to you, if you do) in order to benefit from some beautiful fresh flowers. Flowers are synonymous with romance as a gift, but why not add some to your home as well? Flowers add a romantic, feminine touch to the home as well as a natural touch of life and vitality. Whether you go for red roses or pastel coloured tulips, flowers will bring positive energy to your date!
 Citations:
Roger van der Matten is Home Product and Design Director at 4 Living based in East Sussex, UK.