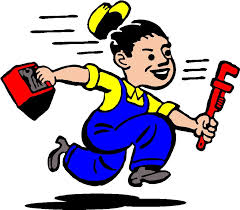 Designing a home's plumbing system can be a simple endeavour if proper planning is incorporated into the procedure of plumbing by yourself. There are three important factors to be incorporated into the design including waste drain, incoming water and plumbing ventilation.
Here are steps to take when plumbing a home:
Research plumbing rules, codes and practices. This can be done in various ways including taking a class, working with a mentor, reading a manual or looking online. Find out from local authorities if there are other plumbing codes apart from the national standard plumbing code.
Obtain copies of the plumbing plans if you are building a new home. Consider making a scaled drawing of the house plan if you are re-plumbing an existing home. Use graph paper to make the drawing. Each square should be equal to a set measurement. Take measurements of each outside and interior wall of the structure and sketch the structure's basic footprint onto a graph paper or software program. Hire a professional if you do not have the relevant expertise.
Determine the location of each plumbing element including the bathroom, laundry area, hot water heater and kitchen. Sketch the elements into the drawing. Be sure to make provisions for various items such as dual sinks in the bathroom, icemaker and dishwasher.
Make larger drawings of the rooms that have plumbing. Be sure to mark the specifics of all the plumbing elements such as the toilets, sinks and shower or tub in the bathroom. Consult plumbing code information because some fixtures are required to be a certain distance from other fixtures.
Use an H or C to mark incoming water needs on your drawing. For example, if you have an icemaker, decide if you will use hot or cold water to plumb it. Count the number of hot and cold inlets to simplify shopping.
Calculate the ventilation needs of the fixtures. Although it is important to vent each fixture, some can share a vent. The exact number of fixtures that can share a vent is determined by the vent's pipe size and type of fixture.
Plumbing ventilation is an important component of the plumbing system as a preventive measure because it keeps toxic fumes out of the house. It is important to undertake full integration of the plumbing ventilation system into the waste drain system. Hire a professional or consult local plumbing codes if you do not know how to vent fixtures.
Be sure to mark your home's waste drain needs in the drawings. The waste drain should intersect with the ventilation system at some point. Certain rules govern proper waste drain setup. Use specific couplers to join new drains along a line.
Determine the type of pipe to use for each system. There are many types of pipes, each with its advantages and disadvantages. The type of pipe to use for a system is determined by various factors such as cost, skill level, location, tools required to install them and availability among others.
One of the simplest choices for inlet water is PEX. Copper and galvanised pipes are great options for inlet water, but require more skills and tools to install. ABS pipe is one of the most preferred pipes for waste drain and vent systems.
Use the drawing of the entire house plan to determine how much of each pipe size will be used in the waste drain system, ventilation and plumbing. Draw or visualise the entire run of the pipe and make a list of the couplers required for the entire plumbing system.
Moving fixtures and appliances is difficult once the plumbing is in place. It is easier to include appliances in the plumbing design even if you do not have some of them. It is easier to include the appliances in the plumbing system later than changing or modifying the plumbing design.
Martin Fellows works as a plumber for Belfast Plumbing Services. When he's not plumbing he likes to blog about the industry to educate and help people with their DIY.