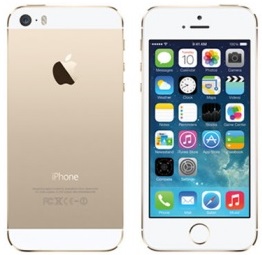 With each release of the iPhone, Apple finds ways to innovate and revolutionize the smart phone industry. The technology that the iPhone brings to the market keeps others working hard to keep-up with the options and features available on a mobile device. That said, there is plenty of great features and options that some iPhone users may not even know about.
Here are 10 things you didn't know about your iPhone 5S and how you can start using these features now.
Shake To Erase
Ever written a really long email or text message, only to look back at it and not like one word that you wrote? Well instead of pressing the delete button for a long time or even highlighting everything with the touchpad, you can simply shake your phone to erase all of the text on the page.
Redo Typing
So maybe you already knew that you could shake to delete your text because you've accidently done it one too many times and it has frustrated the heck out of you. However, don't get made at your iPhone. Instead, just shake it again and you'll be given the option to 'Redo Typing,' which will bring back the text you just erased.
Use Your Headphones To Take Photos
When taking a picture, trying to touch the screen is sometimes difficult and your finger can often get in the way if you try and hit to the top button volume button. However, did you know that you can instead use your headphones to take pictures instead? Simply click on the volume button and you'll notice that your camera will take pictures with the camera app open.
AssistiveTouch
Even those that have disabilities can use the iPhone in ways that other smartphones can't even come close to matching. AssistiveTouch is a feature that makes it easier for visually impaired people to still use their iPhone.
Invert Panorama
When the iPhone came out with a new native camera app that included panorama, it changed the way people took photos. However, have you ever thought about flipping your phone sideways and using the panorama to go vertical instead of horizontal? This makes taking photos or large buildings or tall landscapes super easy.
iPhone Dictionary
If you find yourself running low on space, it's time to start deleting apps. And while you may be hesitant to get rid of your favorite game or productivity app, don't be afraid to delete any type of dictionary or word-find program. Why? Because you can use your iPhone to define words for you, as well as find a variety of synonyms and other grammatical hints.
Scroll To Top With One Click
When you have a lot of content that you've been scrolling downwards through, it can be a pain to get back to the top. That is, unless you know that by simply tapping on the top part of your screen you'll automatically be taken to the top of the page. No more furiously scrolling up, but instead just one tap and your there.
Maximize Shift
Okay, so may not just shift, but you can completely maximize your efforts with your keyboard in ways you didn't know. For example, instead of converting your text to punctuation, just to get one period or exclamation point, you can tap the shift button and drag to the punctuation you want. When you release, you'll notice that your keyboard automatically goes back to the original keyboard. This makes for even faster typing on your iPhone 5S when in a hurry.
Automatically Download Apps
Having that little bubble by your app store whenever an app has a new release is annoying. The newest iPhone update gets rid of that by updating apps for you. Now, app development companies can continue to give iPhone users amazing new products, without having to worry about whether or not they'll update the most recent version.
Ask Siri To Tell You A Joke
Okay, so maybe she isn't as hilarious as you may think you are personally. But if you ask Siri a joke, such as, "Who let the dogs out?" you might be surprised to hear what she comes back with.
Your iPhone is more than just a device to call friends or play fun games with flying birds. Instead, start using the 10 tips here to truly maximize your iPhone. You never know what more you'll find during the process.
"I've been blessed to have a successful career and have recently taken a step back to pursue my passion of writing. I've started doing freelance writing and I love to write about new technologies and how it can help us and our planet." – Rick DelGado