Any business, no matter how small, needs an effective and safe communication base to maximize employee integration and overall productivity. I know what you're thinking: Skype! Hold your horses, dear readers :). Haven't you heard about the PRISM program and its privacy-invading capabilities? Your business deserves a better, safer messenger that won't spy on you and your employees. In other words, you need an enterprise-level LAN (Local Area Network) program that is tailored exclusively to serve corporate networks.
So, let's point out what features set LAN messaging services apart from Skype and other not-so-safe alternatives for you to make the right choice.
#1 Security Level
When it comes to business software, one of the first and foremost concerns should be safety. So, it makes sense to choose a program that offers strong encryption options for all messages transferred within the system. One of the most popular brands recognized for its security solutions is Softros LAN messenger (official website: http://messenger.softros.com/).
I am sure you've already come across this brand, as it's the de facto choice for safe communication among business people. It guarantees that no unauthorized person ever gets access to your correspondence. All incoming and outgoing messages sent and received via Softros LAN messenger are protected by AES encryption algorithm.
#2 Only for Office Communication
Because LAN and WAN (Wide Area Network) messengers don't require an Internet connection, they simply block public interrupt and so prevent employees from distracting on chatting with their families and friends. Thus, you save your Internet bandwidth, minimize firewall openings and raise productivity.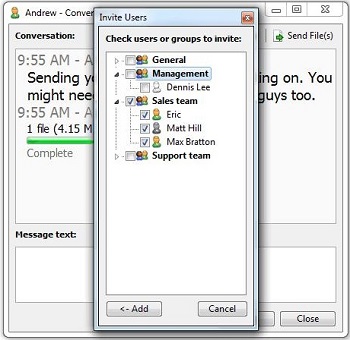 #3 User Grouping
Unlike public messengers, enterprise-level programs have a range of business-specific features, such as user grouping. With the help of a specialized LAN messenger you can reproduce your company structure: arrange your colleagues by departments, titles etc. Based on duties of employees and other factors, administrators can selectively restrict functionality of the messenger for different users. Just try not to annoy everybody too much :).
#4 Immediate Announcements
One more convenient feature is group messaging that will come in handy for making urgent announcements (for instance, when a group meeting is required). Just select the right group/department/employees and send a notification.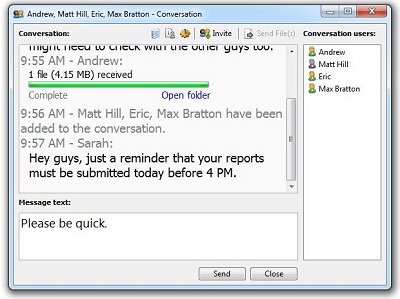 #5 Message Logging
All chat messages are logged, so you can restore any part of your conversation if necessary. Archived history can be crucial for any business person (sometimes we need to look through our chats to refresh important details of a deal, deadlines and other entries).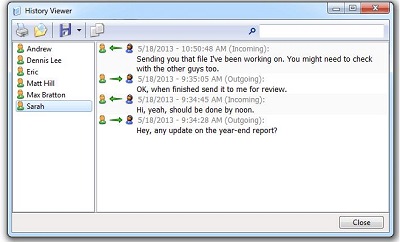 To Wrap It Up
Just because LAN messengers are intended for businesses doesn't mean they require special training and skills. More often than not they work out-of-the-box: all you need is to purchase the program (Softros LAN messenger comes at $10.95 per copy, for instance), unpack it and configure it as per your needs (set your native language, add users, switch on sound alarms etc.).
More often than not, these settings can be saved and transferred to another computer in a fast and painless manner. All in all, these programs function similarly to the well-known, established public messengers, but require no Internet connection, feature higher security levels and exclusive, business-specific features.
Robert is fond of testing various apps and tech gadgets. He shares his own experience on http://yourtechlib.com/, a blog dedicated to web development, mobile apps and related topics.