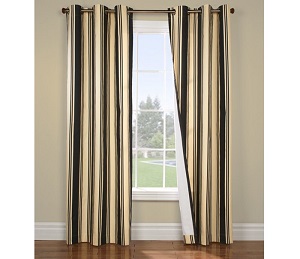 Heating and cooling bills can sky rocket in the extreme season peaks of winter and summer, making your cost of living even more expensive—unless you want to live in chilly or sweaty discomfort. There are a number of different ways to cut down on these energy bills, but one of the least expensive purported ways to do so is to purchase thermal curtains to cover your windows.
These pieces of fabric are incredibly thick and help to hold the heat or cold air inside your house in, while keeping the hot or cold air outside your house that is transmitted through the thin panes of glass on your windows, out.
However, it's not entirely clear that these thermal curtains really will help to save you money on your energy bills in the long run. Below are some Pros and Cons of buying thermal curtains for this purpose so you can make the most informed decision for your monthly energy bill during these extreme seasons each year.
PRO
MONEY SAVER, OVER TIME: Thermal curtains are not terribly expensive to purchase and install. Per window, the thermal curtain with curtain rod will be anywhere from fifty to one hundred dollars, depending on what size brand and style you choose. If you're covering a lot of windows, that may seem like a lot of money and if it's too many windows it may not be economical. However, if just a few windows need this thermal curtain then putting this money down makes sense in the long run, as you will have these thermal curtains forever, saving money every single day.
CHEAPER THAN THICKER PANES: The other option to thermal curtains if you want to save money on energy bills due to hot and cold air seeping in or leaking out through porous window panes is thicker windows. However, replacing windows or adding a pane to them is much more expensive. Thermal curtains are the much more economical way to control temperature over time without spending excess amounts of money.
CON
MAY CLASH: Thermal curtains may not be the best look for a particular room however. They are bulky and there aren't as wide a variety of options for these specific types and styles of curtains as there are for window shades, blinds or other thinner curtain fabrics. This lack of variation may really stand out in a particular room, which could be a real problem for those who are very style minded about how the interior decoration of each room in a home looks.
MAY NOT SLIDE AS WELL: Thermal curtains thick by nature, so they can properly do their job. Many have pieces of foam within them, as well as a much thicker fabric than most curtains. However, this added thickness may cause problems when trying to pull the curtains fully aside to allow light to get in through a window, or to open the window to allow people inside the house to enjoy the temperature outside in more temperate months. Thermal curtains will get in the way of windows that are more narrow in most cases, so keep this in mind when picking the windows you plan to install these on.
Source:
http://www.sparkenergy.com/blog/2012/january/save-energy-with-insulated-curtains/
+Paul Reichmanis the founder of BedBathStore. Using decades of experience in home fashion, Paul offers quality bed, bath, Curtains and home furnishings at affordable prices through www.bedbathstore.com.