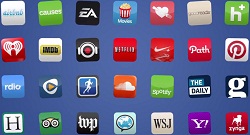 Facebook Apps are a great way to get to know your customer better. There are a variety of Facebook Apps available to cater to your need. You could use the apps to get in touch with them, to show videos, to stream tweets, to run group deals or sweepstakes, and most of all you can use them to sell from your Facebook Page.
Facebook Shop Apps
Selling from your Facebook page is the ultimate bliss and challenge. App reduces the number of clicks and captures the attention of the audience at the right time. App enables them to purchase right when they've been informed about and are interested in the product or service you offer.
You can sell digital products like music, ebooks, tickets or even the regular tangible products like apparel, electronics, accessories and more.
Group Deal Facebook Apps
Setting up a Group Deal is not enough, setting up a group deal that will enable the Fan to purchase it right then and there is the way to go. Giveaway exciting offers, packages, services and products in large quantities but with great discounts to increase the sale and create first customers. These deals have the tendency to go viral and spread a great word-of-mouth if you've got a great deal to offer.
You can set up great group deals with upto 80  – 90 % off discounts to attract the attention of the Fan and give away deals like travel trips, first time shopping discounts, spas, meals and more.
Instant Rewards Facebook Apps
Reward your Fans for interacting with your page. The app allows you to giveaway a coupon that can be exchanged for a product/service or discount (however the admin would chose to use it). The coupon would be given away if a Fan
– Likes your page
– Likes your post
– Comments on your post
Imagine your page has 8500 likes and you need 1500 likes more to reach a milestone 10000 Fans! An Instant Rewards App will help you set up a promotion where you can advertise that everyone who Likes your page to reach 10000 fans will get a prize from your brand! Voila! There you have a combination of instant gratification working as a motivation to help you achieve your goal!
Events Apps
If you could set up your event on Facebook and sell the tickets directly for it from your Facebook Page then that would probably be the best thing to happen to you. You can promote your event, give away offers and also sell the tickets from the same Facebook app. Concerts, movie tickets, seminars, festivals and more can use such a Facebook app to promote the sales of their tickets.
Yes – social commerce can do wonders, it is the future but it is totally upto you how you wish to use it to grow your brand, improve your marketing strategy and ultimately grow your sales. How to sell on Facebook is a question marketers have been attempting to answer for a while – and social commerce appears to be the way to go.
Ritika Verma is a social media specialist with Apps Mav. You can follow them on @AppsMav.