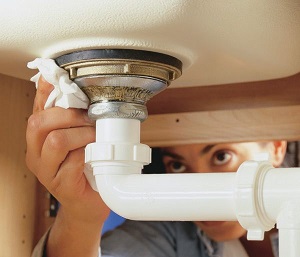 So we're thirteen days into February and we're starting the first of our big spring clean, though there's one room that's often neglected—the bathroom! To rectify that, we're sharing our top tips for fixing up your bathroom with the minimum of fuss.
1. Clean!
A good scrub is probably the easiest way to fix up your bathroom. Dust your shelving. Re-organise your toiletries. Change the towels and mats—maybe even reconsider the colour scheme.
Most importantly: de-plug your drains. The shower drain is something we often neglect, and it can end up clogged with hair and debris. Having cleaned your bathroom until it shines, the drain will likely need some attention. Grab your rubber gloves and pull the drain cover free.
Pro-tip: use the crook of a hanger to unplug any hair balls caught in the drain.
2. Install!
Bathroom installations can be a big job: replacing sinks, showers, radiators, or toilets can be intricate and involved. However, installing a new radiator is something that's often ignored—but the right radiator, such as a stylish heated towel rail, can really add a touch of class to any bathroom.
More and more, companies are offering a huge range of radiators to choose from, so you can really customise your bathroom. Styles range from vertical to horizontal and panel radiators, in stainless steel or cast metal.
Pro-tip: be sure to deal with a company with a long and successful track record. Inspiration Radiators have been supplying high-quality radiators, designer radiators, and heated towels for fifteen years.
3. Paint!
A lick of paint won't go amiss, especially if it's been a few years and grubby hands have been near the walls. The skirting boards, the walls, and the ceilings, if you're feeling adventurous, will all benefit from a new paint job. With spring ushering in bright weather and sunny days, consider a change of colour scheme altogether: cool blues or bright oranges bathed in sunlight will liven up any bathroom.
Pro-tip: don't ignore the skirting boards! Dust them first and add a second coat of paint to give them a new lease of life.
4. Replace!
Nothing makes a bathroom feel more dated than old fixtures or old-fashioned light covers that wouldn't look out of place in your grandmother's house. Sometimes it's a simple swap-job or a case of replacing a light cover.
If you've got old towels, replace them. Lastly, be sure to update your shower curtain for a cheap and cheerful fix. Plain plastic curtains are fine, but why not go for something that shows off a bit of creative flourish? Shower curtains take up a lot of space, especially if you have a bath/shower in one, so think of your shower curtain as the focal point of your room.
Pro-tip: Use the shower curtain to pull together the over-all look of the room.
So that's it! Four tips to revamp your bathroom with the minimum of fuss and hassle. Did we miss anything? Let us know!