Bathroom vanities can be some of the most elaborate and beautiful aspects of a home renovation as they are often the item on which no expense is spared. From gorgeous marbles to stunning wood designs, the vanity is centerpiece of a master bathroom and sets the mood and palette for the rest of the décor.
From clean, crisp, and bright to old-world warmth, we've put together this Best of list of eight Beautiful Bathroom Vanities found on Houzz.
Bayshores Drive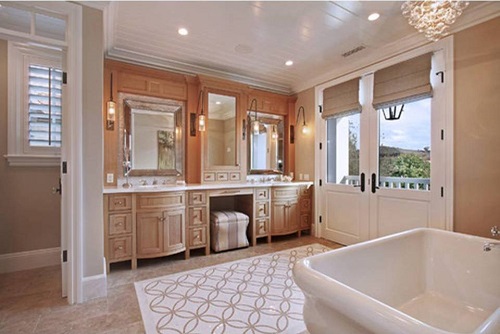 Architect: Brandon Architects Inc.
Contractor/Interior Designer: Patterson Construction
This all around gorgeous bathroom makes fantastic use of wood to create a warm, homey, and bright atmosphere sure to help you relax and let the rest of the world melt away. The rounded drawers add a lovely touch of old world elegance to match the chandelier and the double doors with large windows onto a French balcony give the room a fresh airiness even without opening them!
Spanish Colonial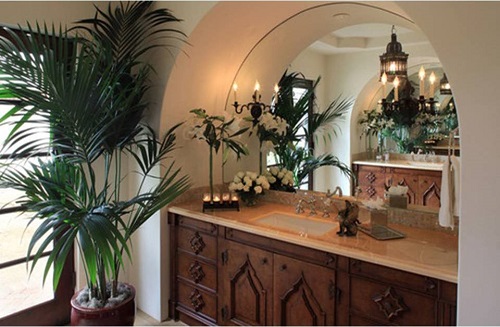 Interior Designer: Wendy Black Rodgers Interiors
Simply oozing old world charm, this lovely vanity combines warm, dark wood with orange marble and a large curved mirror. By filling the entirety of the arch with the mirror, it helps to maximize the illusion of more space as well as making the most of the natural light. Cozy and homey, this vanity is sure to bring out the best in anyone!
Classic Informality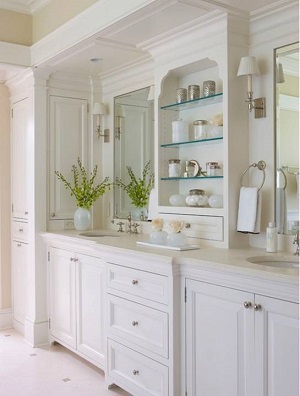 Interior Designer: Anna Molvik
This immaculately clean and bright vanity not only makes excellent use of traditional designs and beautiful woodwork, it combines them with stainless steel and brushed glass to create a spa-like atmosphere that fits into this traditional New York home and combines formal and informal spaces. Featuring tons of storage and a soft, neutral, relaxing atmosphere this vanity speaks volumes on the impeccable taste of its owner.
Oakshores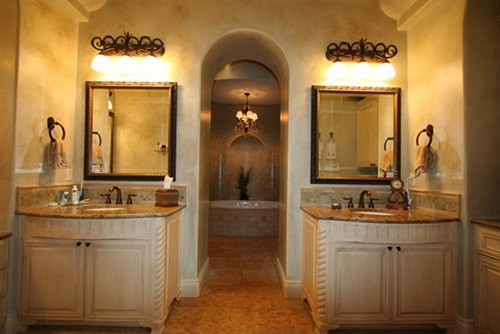 Architect: Capstone Custom Homes
This unique vanity set not only makes a create design statement but it also makes impeccable use of the space. By framing the archway with two matching vanities, it creates a sense of balance and a charming "his and hers" hominess. Capturing a distinctly Venetian feel, the brushed paint of the walls and charming lighting give this bathroom a feeling of warmth and comfort.
Casa Verda Design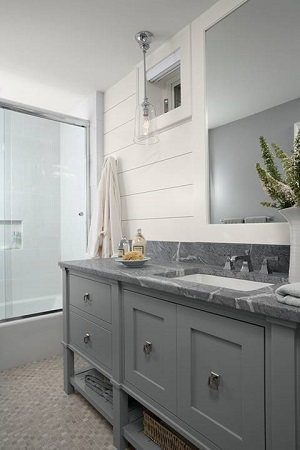 Interior Designer: Casa Verde Design
Demonstrating the best in basement bathrooms, this gray and white room is bright, and clean despite being below ground. With the solidness of the cabinet broken up by the charming shelving spaces in the bottom third, the vanity manages to feel light and bright as the rest of the room instead of weighing it down. The gray and white marble brings the white tile and gray wood together and the large mirror helps to make the most of the bright lighting.
Modern Ensuite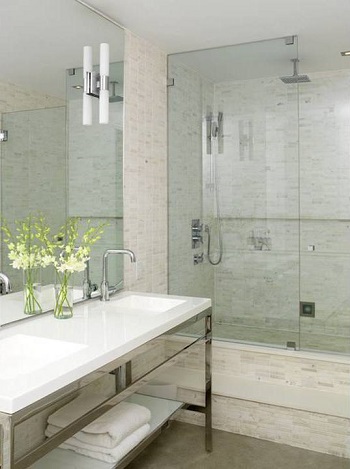 Interior Designer: Croma Design
This spa like ensuite uses glass, whites, grays, and steel accents to create a modern, crisp and clean atmosphere. The combination of marbles and steel creates a balance of softness and industrial finishes and the large mirror and double sink leave lots of room for two to get ready at once. A wonderful marriage of form and function, this bathroom makes great use of space, color, and light.
GDC Construction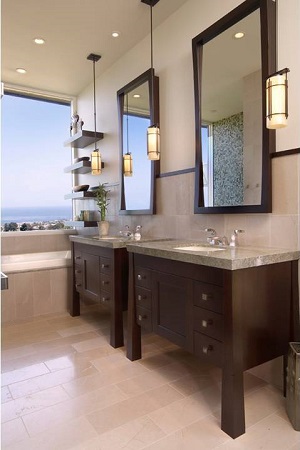 Architects: GDC Construction
This charming bathroom mixes warm colors and dark wood stain to create a homey, dreamy atmosphere. The stunning view and large window add a certain amount of airiness and whimsy while the solid wood vanities with their flared legs play off the traditional but unique framed mirrors and wall paneling for a look that is inspired by the classics but not ruled by them.
Buffalo Valley Residence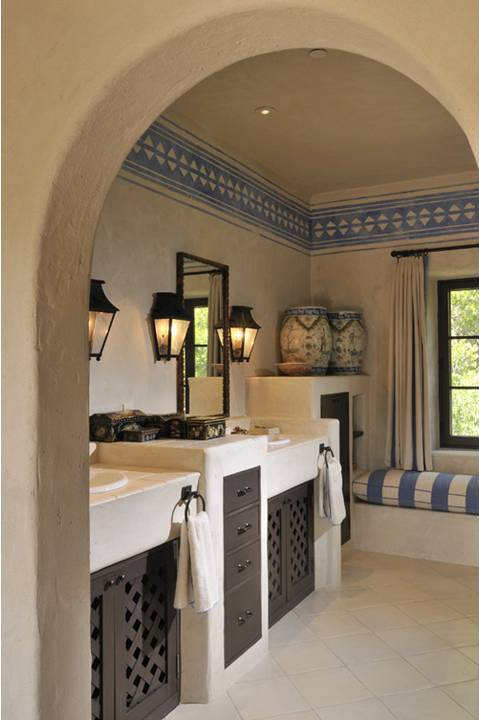 Architects: FGY Architects
The gorgeous use of color in this Spanish-Hacienda style bathroom is simply divine. The mix of tradition, function, and aesthetics make this space a truly unique and lovely room. From the lattice doors to the blue painted trim to the use of levels in the countertop, this vanity has a wide variety of pretty little details that make it stand out from the others.
Calder Creek Cabinetry & Design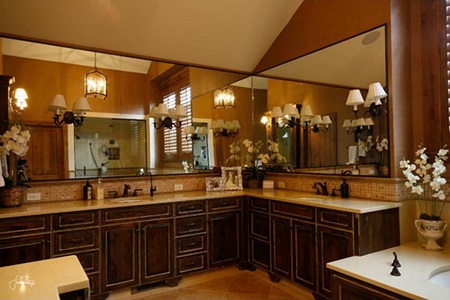 Designer: Billings Kitchen Cabinets
This massive bathroom vanity not only has two sinks but a very respectable amount of counter, mirror, and storage space. Stained with a lovely wood finish, the cabinets are a wonderful accent to a great room. Making great use of the corner mirror to increase the perceived size of the room, even use of additional vanity mirrors will only increase the beauty of it. This bathroom is a beautiful example of form and function married with aesthetic appeal.
John Medina has been in home renovations business for years now and the only thing that keeps him going is the enthusiasm in creating something new every single time. He loves to share new ideas and designs with people who are looking for better living, and his articles are always intended to do the same.