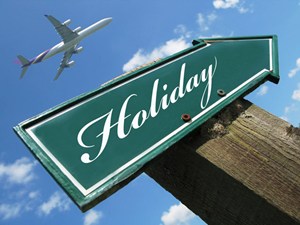 An annual holiday is all about recharging the batteries, and the last thing you want to worry about is money. So if you're on a budget, follow these money saving tips for a stress free time away.
Beware Price Comparison Sites
These can be a great way to find a really cheap deal, but be warned that the price is often cheap because so many essentials have been stripped away. This can include hotel meals, insurance, or even flights, so always be sure that you're paying for the service and holiday you need.
Travel Light
Budget airlines make big bucks for all those 'extra's, which sadly includes any case over the size of a postage stamp. If you can manage it, then, travelling with hand baggage only will save you money. Take outfits that can easily be mixed and matched, and don't include any item that isn't essential.
Exchange your Cash
Whatever you do, don't exchange your cash at the airport. You'll get the worst rates. Shop around for the best rate you can get before you leave using a comparison site.
Take a Packed Lunch
You might be travelling light, but hanging around at the airport can very quickly eat into your budget if you're buying food. Remember that your bag isn't weighed until check in, so take a packed lunch for your airport wait.
Beware Breakfast
Hotels often charge extra for breakfast, so always check to see if breakfast is included in the price. If it is, opt out, as hotel breakfasts are expensive. Instead, get up and go to a cafe for a much better deal.
Get Walking
Not only will walking around a city help you save money and lose a few pounds, but it can also pay off in terms of the price you pay for food and drink. Big attractions such as The Eiffel Tower attract tourists, so the most expensive places to eat and drink are always in a tourist hotspot. Take the time to walk five or ten minutes away, and you'll make big savings.
Switch off the Phone
Sitting by the pool texting is tempting, but it can cost you an arm and a leg if you're not careful. To avoid crippling data roaming charges, you should either buy a special bundle from your phone provider, or avoid using your phone entirely unless you can use a Wi-Fi signal from a hotel. Switch off data roaming if you have a smart phone, and ask your network provider for a data usage app, to warn you if you go over your limit. You should also make sure you have phone insurance, in case of loss or theft.
Ask the Cleaner
Hotel cleaners are notoriously underpaid, and also most likely to have the best local knowledge. Ask them for good and cheap places to eat, and for great places to visit that don't cost the earth. Give them a tip for their tips, and you'll still be saving money!
Bill Turner is a marathon runner, avid traveller, successful entrepreneur and proud father. He lives on the South Coast of England and enjoys spending time in the outdoors with his 2 boys.