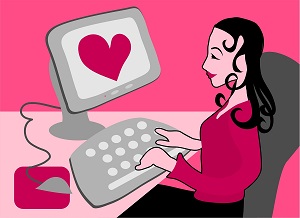 Online dating has become much more mainstream over the last few years than it used to be. No longer is online dating seen as a last resort for the really desperate, but actually a fun and effective way of meeting someone who may be compatible for dating. Online dating does pose a bit of risk since people can pretend to be someone completely different than who they actually are.
Usually this only results in disappointment when actually meeting the person, but sometimes people have bad intentions, such as trying to scam money from you, attempt identity theft or worse. Before you get into the online dating scene, read through the following tips that can help you stay safe.
Don't Share Personal Information
Don't share your personal information such as your telephone number, address and real email address before you've actually met the person you are chatting with on the online dating service you're using. Most dating services will allow you to message people without having to use your own email address.
Verify Photos
If the person you are conversing with has a profile photo or has sent you photos you can actually verify if the photo wasn't just snatched off the internet using a service called TinEye. TinEye will show you where else on the internet a certain photo appears. If you don't find it on TinEye this doesn't mean that it's definitely a real photo of course, but it can help you quickly weed out people who are dishonest.
Google Your Date's Name
Before going on a date, do a quick background check online by Googling your date's name. If you find a number of normal looking social media profiles such as a Facebook page, LinkedIn page, etc. that's a good sign. If however you don't find anything, that's a bit strange, but possible if your date isn't much into social networking.
If you find negative online dating experiences about someone who has the same name as your date or scam warnings, that could be indicating trouble. Also put the name into Facebook's search box to see if you have any friends in common. If you do, message them to ask if they know your date well.
Meet During the Day or Early Evening And in a Public Place
For your first date always meet up during the day or early evening in a place where you know there will be a lot of people around. If your date keeps insisting on meeting up late at night you should probably look for a different person to date.
Use Google Voice
Instead of using your real phone number create a Google Voice number that you use just for online dating. You can have this number forwarded to your cellphone.
Online dating can be a great way of finding a potential partner. Just makes sure to always keep your safety in mind. As long as you take the right precautions it shouldn't be any more dangerous than meeting someone at a party.
Zane Schwarzlose is a writer at The Loewy Law Firm, a personal injury law firm in Austin, Texas. Zane thinks that online dating could be scary.