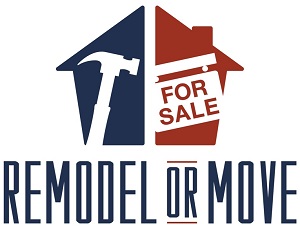 We tend to have different needs from our homes throughout our life. A young, married couple can easily get by in an apartment or small starter home, but when kids come along, one or two bedrooms quickly feels cramped. As the kids become teenagers, even more space is required as privacy becomes important.
Then, of course, the children move away, and it is just the two of you again. While some families may be able to afford moving four or five times to different size houses, most can't, which leaves us with the question of how to get a bigger and better house when we need it. In other cases the need may not be space but a more accessible layout for an older family member. Or maybe you just don't like that 70's styled kitchen.
Regardless of what the issue is, homeowners are left wondering whether they should remodel to meet their needs or move to a different house altogether. The solution to this dilemma is a little complex. Remodeling is costly, and not all projects can improve the value of your home. Then again, moving is very expensive as well, so let's take a look at the pros and cons of a remodel vs. a move.
Remodel
One of the first considerations to make when thinking about a remodel is the value of your home in comparison to the rest of the neighborhood. This may not seem like a big deal, but no one wants to buy a house that is completely different from the rest of the street. If your home is already the most expensive house on the street, you gain little from updating any further.
On the other hand, if your home would become equal to or only slightly better than the other homes in the neighborhood, a remodel could build some good home equity. You should also consider the type of project you want to finish. Updating the kitchen or adding extra living space generally bring in the most value when it comes to a re-sale.
Cost is always a consideration. While the housing market is slowly getting back on its feet, the value of many homes have still decreased significantly. Thus, spending more money on a remodel than your home is even worth probably isn't the best move financially. On the other hand, a remodel saves moving expenses as well as all of the money lost paying for a bigger home and more than likely higher property taxes.
Finally, a remodel may be the best option simply because you love everything else about your home except for those hideous cabinets, and you live in a great neighborhood that you never want to leave. A remodel guarantees a certain living situation while a move could create new problems with the floor plan, the neighborhood or the aesthetics.
Move
One really good reason to move is that there are certain issues that a remodel simply can't solve. A bad neighborhood, a yard too small to build on or perhaps a home that is completely falling apart are all things that really can't be fixed. In some cases it may make sense to move if you are spending a lot of money to maintain your current home, but bear in mind that even a brand new home needs maintenance eventually, and if it is bigger, it will have even more areas to keep repaired.
The Green Question
One issue we might not immediately think about when considering a remodel is the need to protect the environment. Creating a green home can save on energy costs and reduce the amount of the earth's resources the home consumes. Some older homes are hard to adjust to a green lifestyle because they have poor insulation, but doing a remodel yourself allows you to use green materials and perhaps start to use solar panels or dual pane windows. On the other hand, building a new home allows you to create an entirely green home, or you could possibly move into a home that already has several green additions.
Clearly the decision whether to move or remodel is a complicated one based partially in finances and logic and also based partially in emotion. The important thing is to factor in all of the components that are important to you before making a decision.
David Glenn is a technology fanatic and business enthusiast who loves to keep up with the advancements in each. When he writes, he draws from his experience of over 30 years as a business owner and entrepreneur in the home building industry.