Installing lights in and around your swimming pool can create a dramatic and enigmatic effect at night, but it also performs another more important purpose – ensuring everyone's safety by providing just enough illumination to guide those using the pool at night without being too glaring to the eyes. It also helps keep wandering animals off the pool when it's dark.
There are several different outdoor lighting options that can beautifully highlight your pool and make it the focal point in your yard at night.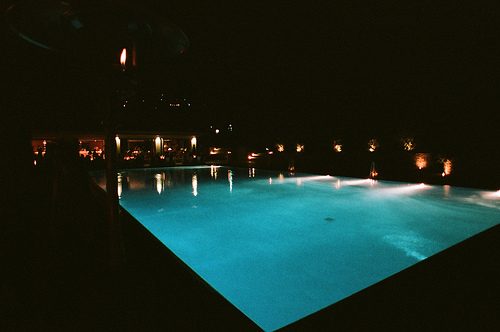 Exterior Lights
Outdoor lighting techniques allows you to create a particular mood or atmosphere in your backyard by adding color, drama, and appeal to your swimming pool and landscape while at the same time keeping your pool area safe. Installing outdoor landscape lights to illuminate specific elements that are worth highlighting, such as your favorite plants and trees surrounding the pool, create interesting reflections on the water.
Place uplights at the base of plants around the edge of the pool deck to add dramatic shadows and just the right amount of illumination to allow you and your guests to safely move around the pool. Define your deck are by adding lights on stakes, similar to those used to outline pathways. You can also add luminescence towards an artificial waterfall with these uplights, so that the upward lighting gleams through the water and onto the rocks.
Water Lights
Create a romantic or festive mood by installing lights under and on the water. It would be best to mount permanent lights onto the sides of your pool under the water level, so that it is much safer for nighttime swimming. Colored lights may be used for a more visually appealing illumination.
Fiber optic lights can provide a glow around the entire circumference of the pool, along varying levels in your waterfall, or along the edge of your pool deck. You may alter the hues to match your mood or even program the system to change colors at certain intervals. Floating lights can also be added for a fancier effect.
Types of Light Bulbs
Lights that are installed in the sides of the pool would be LED, halogen, or incandescent bulbs. Before choosing a specific type of lighting, it is best to learn about the pros and cons of each.
For instance, incandescent bulbs are less expensive compared to halogens and LEDs, but they need to be changed more frequently. Halogen bulbs are brighter and can cover larger areas but they give off more heat than the other bulbs. Fiber optic lights are waterproof and allow you to either use end-emitting cables that focus the light as an uplight or edge-emitting cables that glow throughout their entire lengths.
Solar lights are best used as floating lights in the pool or on stakes around the pool deck to highlight this area. LED lights are usually installed under the coping or within the pipes embedded in the walls, emitting a soft glow that washes over the water.
Save on Energy with Low Voltage Lights
Lighting experts from Capitol Lighting recommend that you use low-voltage lighting to help save energy. They also provide soft lights which is the best amount of lighting for your pool area, enhancing this space instead of overwhelming the eyes during the evening. Position the lights strategically into the branches of trees to give them a sculptural quality. Soft lights along the pathways towards the pool are sufficient to allow you and your guests safely move around.
A well-planned poolside lighting not only ensures everyone's safety, but also incites a very inviting atmosphere that will draw you outside to enjoy the exterior space of your home as well. It creates a mesmerizing work of art that can be a joy to look at while you are relaxing by the pool, as well as from inside your home looking out.
A truly worthwhile investment that will provide you with more than just illumination for beauty and security purposes, as it also gives you positive physical, psychological, and emotional benefits while it influences you to spend more time outside and enjoy the company of your family and friends.
Joan Silver is a known lighting expert and a fan of all things "lighting". She currently spends her time at 1800lighting.com providing customers and designers with robust information on their lighting needs.