A steam sauna combined in conjunction with a shower stall is called a steam shower. The device is known for its ability to improve one's health and wellness by introducing a person to warm temperatures (hyperthermia) and instilling improved toxin releasing conditions onto the body.
A person also develops a stronger immune system and healthier blood circulation from constant steam exposure and temperature which is just some of the reasons behind why these luxury items are so desirable.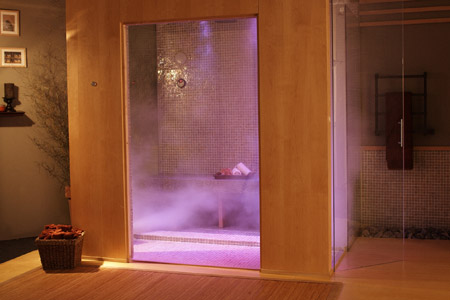 Steam showers can be a fantastic luxury to have. Though before one can enjoy its magnificent features, one will first need to be concerned with the units installation into the bathroom. Thankfully, installing it is relatively easy and can be done by anyone who is of reasonable standard with home improvement and can follow the instructions carefully.
How To Install The Prefect Steam Shower
The first thing to do is prepare the space to be occupied by the steam shower. If you are planning on replacing any existing fixture, be sure to remove it ahead of time and measure the space left, making sure all debris and other obstructions are clear.
Prepare the room by making sure it is made of mold resistant drywall. There should also be sufficient ventilation so that moisture will not build up in the room. This is necessary to prevent the growth of mold and mildew that can lead to severe damage. An open window works fine but an exhaust fan works even better.
Be sure that the power supply of the steam generator and shower is GFCI protected. Water and electricity run close to one another inside the unit and by design water and electric so lose to each other, if not installed properly will be a concern. That's why the size of the line will vary. When performing this step, it is best to consult an electrician to be absolutely sure.
Once the room and generator are prepared, it is now time to work on the steam shower assembly. The steps needed cannot be detailed as it varies per manufacturer and model. As such, please follow the assembly instructions included in your package very carefully and to the letter, do not proceed if unsure about anything and always contact the manufacturer when needed.
Once done, it is now time to connect the water supply to the unit. These powers up the shower jets and the shower head inside the unit, ensure to both connect the water to the unit and switch it on and leave off whilst checking for leaks after the waste is in place.
Hook up the shower unit's drain. If you don't know what it looks like, it's a one to two inch flexible hose included in the package.
If your shower has leveling legs, be sure to adjust it so that it appears level and has a stable footing when entered. A stable base is necessary to ensure the unit's stability and security.
Layout rubber mats around the bathroom. You can also place one inside the steam shower unit. These mats help improve the traction of the user and help prevent any untoward incidents.
Article written by Andrew Ellis from www.steamshowerstore.co.uk expert in steam sauna and heat treatment and avid blogger on the subject. If you liked the article subject, you can see examples of home steam sauna generators here.