Jacuzzi is a name that many will instantly recognize. They are famous for their line of whirlpools, spas and hot tubs. Although they dabble in all manor of different devices, they specialize in their whirlpool bath range above all else in particular.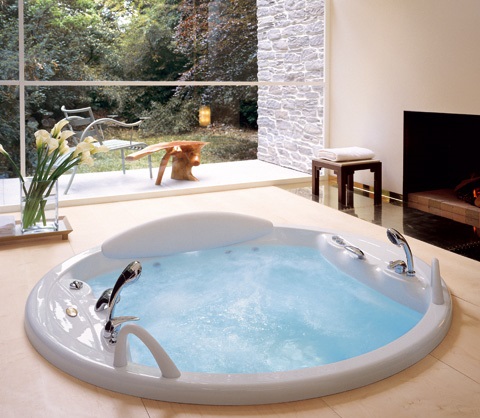 History
The first ever whirlpool bath was developed by Roy Jacuzzi way back in 1968. People were fawning over how relaxing it was, which prompted him to make an outdoor version which brought us the outdoor hot tub in 1970. With the onset of the technological age, Jacuzzi began expanding and bringing about new features to accent their whirlpools. These days, the company now has over 250 patents to its name and has made whirlpool baths that are affordable enough to be bought for households and are available in all shapes, sizes and designs.
Jacuzzi Benefits
Jacuzzis are awesome recreational fixtures. They allow you to unwind without leaving the comforts of your own home and enduring a grueling trip to the spa or gym. Think about it, after a long hard day at work or at school, your body could use a bit of relaxation to allow it to reset. With a whirlpool bath, the water massages your body by moving in a circular motion with the help of the strategically placed jets and it is this swirling action helps relieve stress and also any aching muscles and joints.
Location
Jacuzzis are sold in various shapes, sizes and designs and their will be one available to suit all. Be sure you estimate the free space you have in your bathroom before choosing one. In most cases, it is easier to pick out a Jacuzzi because they are almost always located in the corner of the room. There are also some models that are built to withstand environmental conditions so they can be placed in the backyard.
How it Works
The hydro-massage effect is produced by pulling water out from the bath and then pushing it back in at high pressure via the nozzles all around the whirlpool. This produces a therapeutic and relaxing effect on the muscles which is highly recommended by physicians. It is even advised as regular therapy for those who have conditions such as rheumatism or arthritis.
Social Benefits
Aside from its therapeutic benefits, with a Jacuzzi bath some social benefits are also enjoyed. What better way to entertain a group of friends or some family members than a dip in the outside Jacuzzi? Parties and social events will definitely be a blast with one of these around and a few cocktails around.
People who want to relax with their special someone will also find the Jacuzzi hot tub a perfect venue to spend some one on one time. Whether you want to discuss important matters away from distraction or simply enjoy each other's company with a glass of chilled wine whilst in some low light, the whirlpool helps accentuates the importance of being with one another and will create memories that are worth more than you ever paid for the jacuzzi.
The article was written by Andrew Ellis, an avid blogger and writer from www.steamshowerstore.co.uk expert in home jacuzzi's, hot tubs and saunas. You can see similar blog article via this link for more writings on jacuzzi whirlpool baths.