Making a den out of a garage with simple rustic decor offers families an extra, separate space in which to entertain guests or to give teenagers a place to spend time with their friends without disturbing their parents or younger kids in the home. Whatever the reason for wanting to convert your garage into a den, this task can be accomplished with minimal effort, or can become a larger remodeling project for those able to have construction done to makeover the room.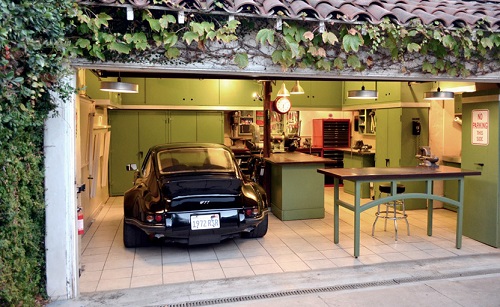 To start with, the garage should be cleared out and cleaned as well as it can be. Any flammable materials stored in the garage should be moved to a safer place where people will not be spending time. Next, take a look at the ground, the walls, and the garage door to determine whether the room can be properly insulated based on the weather of the area where the home is located.
If winters are filled with snow or summers blaze at high temperatures, consider a small air conditioner and space heater that people can use to adjust the temperature of the garage when necessary.
Also, decide whether adding insulation and new weatherstripping is a possibility. Then make sure to get the concrete ground covered. Find a large piece of carpet or rug in a warm brown or dark green color to cover the floor of the new room. Once these starting tasks are tended to, the fun of decorating your perfect garage den can begin.
Just as the carpet should be in a color that conveys nature, so should the furniture. Consider choosing a comfortable, natural tone of couch with wood trim. Add a few wooden chairs for extra seating, and if possible, find a table made from a cut tree stump or another style of wooden table to accentuate the feeling of bringing trees inside.
Decorate the den by going on nature walks and collecting small things to use. Not only are these items all completely cost free, but they truly can recreate the feeling of the outdoors inside of a room indoors. Use things like pinecones or stones to fill large vases to set on tables, and use flowers and leaves to design special wall decorations and wreaths.
Hunters may want to feature some of their animal trophies in the new den. A room the size of a garage provides ample wall space to do so and, with proper lighting, can really showcase the trophies nicely. Antlers from animals can be used in cool ways that lend well to the atmosphere of a rustic decor. They can be made into tables, for example, or can be layered together to create decorative frames around door entrances and windows.
Antlers can also be used to make lamps or chandeliers. Both traditional table lamps and extravagant, sculptured chandeliers can be created almost entirely from antlers.
Making a den out of a garage with simple rustic decor should be done with the intention of conveying a family's love of nature, and to bring the beauty of the outdoors inside to surround them in their daily lives.
Mark Thompson is the owner of Casthorn Designs.  He is also the designer of our lighting and an avid outdoors-man.