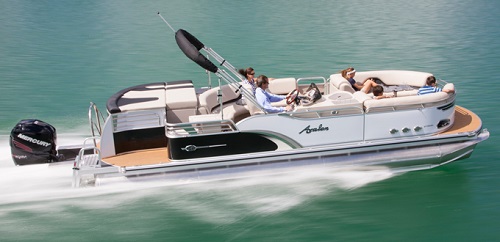 It might be a bit early to start dreaming about summer weather and boating out on your pontoon boat, but it's certainly not too soon to think about all the gear that you should have equipped with your pontoon boat. If you're thinking about revamping your boating experience this summer, tech upgrades to your pontoon are a great place to start. They are relatively inexpensive compared to other upgrades, they supplement your boat nicely, and you'll use them rather frequently.
Here are a few pontoon boat upgrade ideas to get you started.
Sound System
A party on the water isn't complete with some music, and nothing is worse than trying to play tunes through an outdated and rusty sounding speaker system. Whether your pontoon has no sound system installed, or you're looking to upgrade to a new and better sounding audio system, a sound system is a great place to start when it comes to making tech upgrade to your pontoon. It's important that you only consider marine speakers, as everyday speakers are not designed to handle drastic changes in humidity and temperature, they are not UV light resistant, and are certainly not water resistant.
You should consider speakers that have good specs, have high power, and are able to sync well with the way you listen to music. For example, if you store all your songs on your MP3 player, then being able to sync your playlists with it with your audio system makes it easier to change and navigate through songs from multiple locations. Check with the sound system supplier to see if their sound system is compatible with your pontoon make and model. It is also best to visit the supplier in person to see how their sound system operates and performs before you buy it.
GPS
Before you assume that your smartphone can take care of all your boating navigational needs for you, it's important to realize that marine GPS systems can do a whole lot more than your smartphone can. Nearly all marine GPS systems (or at least the good ones) are waterproof, and their battery lasts longer and is more reliable than a smartphone's. Marine GPS systems also receive much better reception than smartphones do, making them reliable for when you take your pontoon out on uncharted waters (so to speak).
While marine GPS systems might not be necessary if you keep your pontoon on small inland lakes, they come with features that many pontoon owners find necessary. Many include including hunting and fishing calendars, map software that can be customized, lakes data, water depth information, and data sharing with your current phone plan.
Fish Tracker
For the angler, fish trackers can give a rough representation of what is beneath you and where you should cast your lure. Kids also find them amazing, and they can be a great way to get your kids hooked on fishing. Because fishing isn't about boating around the lake and trying to see what is underneath you, most fish finders keep historical information of where the best spots on your lake are to go to, and allow some sort of customization to let you select and favorite your top fishing spot.
Mike Hall writes about boats, boating and water quality related topics. Mike works with Manitou Pontoon Boats, which manufacture performance and luxury pontoons.