A bathroom is one of the most important parts of your home that has to fulfill functional, hygienic and aesthetic criteria. Next to the complexity of these needs that you face when decorating and furnishing your bathroom, there are new trends that make it maximally functional, easy to maintain and visually attractive.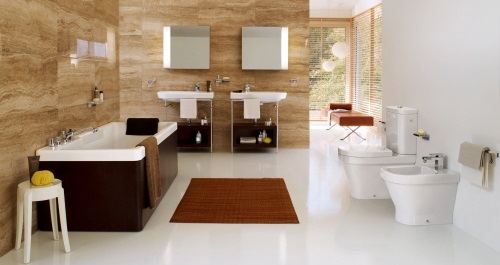 In projecting and furnishing your bathroom you can't make a mistake, because it will be felt daily through use and from all members of the household. Although it is often limited by its space, by properly placing installations and by choosing the right equipment, the bathroom can give the maximum in functionality and aesthetic sense.
Latest trends
The latest trends have take into consideration all the needs of modern living and the accentuated role of the bathroom in it. The style of furnishing and decorating the bathroom is susceptible to classic and modern ways, and trends have introduce new things, i.e. they adapted the classic to modern living. In that way, inside a trendy bathroom decoration, you can choose different styles that are fit to your personal needs, desires or possibilities.
Modern bathroom
A modern bathroom can very well work with wood in various finishing touches and designs (natural or artistic), as a material for the bathroom elements, the floor or the wall. Wood gives a specific mood to the bathroom, considering that mostly cold materials are often used in it, like ceramics or stone. If you use wooden floors or walls, get those that are specially finished and protected from moisture and temperature.
Natural or recycled wood, mixtures and artificial materials, that imitate wood by texture, are also used to make tiles, the things that carry your sink, bathroom furniture and in special designs for making the sink or bathtubs. They look especially attractive with its design, but also the visual appearance of the wood as a finishing material.
If you have a smaller bathroom and decide to place a solo sink, make sure that it is an attractive model that will appear sculptural in the space and satisfy the functional and aesthetic roles needed. Along with the shape, sinks can stand out by their color, material or texture. In making these kinds of sinks various materials are used: ceramics, stone, glass, corian, etc.
Bathroom cupboards
In making bathroom cupboards two basic models stand out. One is a pure minimalist, adapted to smaller bathrooms to visually relieve the atmosphere. Most often it is made out of full or hollow cubus, that serves a working board or sink carrier, and above it there is a mirror, that also has a decorative role. The mirror is accented by shape, dimensions, the kind of the frame and the LED lighting around it.
The other typical bathroom cupboard model is adapted to bigger bathrooms and households with a larger number of members. It is similar to racks that can be found in living rooms, but matched with the size of the wall, the space where it is placed and the purpose of the bathroom. Cupboards can be completely enclosed by a glass or full door in a combination with hollow shelves. In a designer sense they are not typical for a bathroom, so the use of these cupboards gives the bathroom a whole new atmosphere and appearance.
Stone in the bathroom
Stone is a natural material that is placed high on the list of materials desired in a bathroom by modern trends. You can sink, bathtubs, showers, sink tiles and many other things made by stone. It is often seen as flooring or a part of the wall. Stone in the bathroom introduces art and glamor even when it is shaped in a minimalist style.
Bathroom Lighting
Accent the lighting in your bathroom. Place a strongly accented central lighting body, because in the latest trends it has a lighting, as well decorative role. A large amount of light, alongside the functional role linked to the daily use of the bathroom, visually enlarges and accents the space.
Dedicate yourself to furnishing your bathroom with joy. The latest trends will help you in choosing attractive models of bathroom equipment and furniture, but you need to adapt them to the size of your bathroom and your personal demands.
Milan Budimkic is a creative freelance writer for industries that include but are not limited to the travel, sport, health, home decor, entertainment, internet marketing, and much more. When not blogging, Milan likes to travel and read a lot.