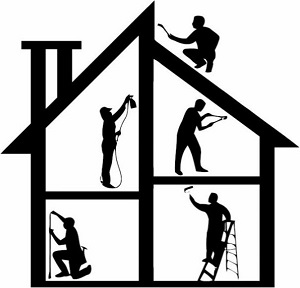 If you need something major in your home repaired or replaced, you are probably already dreading the resulting bill. Another unfortunate reality of this process is the risk of being over-charged for the work that is being done on your home, or being charged for work that is not high quality enough for the asking price.
Inexperienced homeowners often shell out much more than they have to, and shady contractors keep their business afloat. Here are 5 quick tips on how to avoid a rip-off and only pay for the top notch service you expect to receive when searching for home contractors:
Research potential costs
Obviously, if you have hired a reputable contractor, they know what they are doing and know how much the materials and labor should cost. Homeowners, on the other hand, will probably not be so well-informed. Understanding the average rate for a particular job will give you leverage should you suspect the cost is too high. This isn't to say that you should be telling anyone how to do their job or what it is worth, but being armed with a little know-how before you do business with someone certainly doesn't hurt.
Talk to people you trust
Seek out contractors the old fashioned way—ask friends and family who they would refer you to. This gives you an inside perspective from an unbiased source that you know you can trust, which can't always be said about reviews posted online. Ask specific questions: what kind of work did this contractor do, and how satisfied were they with the results? How did their pricing compare? Do they know anyone else they have referred who might be dissatisfied with a particular project the company or contractor worked on?
Seek established review sites
Although seeking the advice of people in your life tends to work well when deciding on a contractor for a job, most people go online to browse reviews and options first. Many people search for top-rated roofers in NJ, for example, but how can you tell which ones are telling the truth and which ones are portraying a too-good-to-be-true image online? If the internet is where you turn to find your information on businesses and services, turn to well established listing sites only.
Places like Angie's List are renowned for honest, helpful, and thorough reviews of all sorts of services and professionals. Shady contractors who perform less than satisfactory work won't be able to conceal the negative reviews and feedback, as this is a community of real consumers dedicated to warning others of poor service, and praising excellent work.
Avoiding a scam or rip-off doesn't have to be challenging if the right measures are taken before you hire a contractor. There is far too much free information at our disposal to pay someone for a job before searching them online, double-checking their pricing rates, and hearing what other individuals have to say about their experiences with them. Home repairs can be exciting and breath new life into your home—hire the right person, and the experience can be very rewarding!
Hailey Andersen is an avid blogger and DIY home repair nut who loves sharing her experiences through writing.