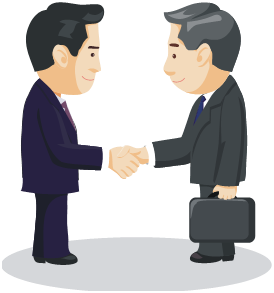 You're okay with speaking on the phone and closing a deal via email. After all, that convenience is what makes the Internet so fantastic! Why would you travel for a face-to-face business meeting when you could close the deal from the comfort of your couch?
Hold up. These ideas are great, but you're forgetting that face-to-face meetings still offer value. When trying to close a deal, consider these reasons that face-to-face meetings still matter.
People Are More Likely to Listen
In the Maritz Institute's white paper The Future of Meetings: The Case for Face-to-Face, the co-authors say that face-to-face meetings help eliminate multitasking and help shut off a person's autopilot. On a virtual call, it's easier for the people in the meeting to check their cellphone, take notes on unrelated subjects, or even get up for a cup of coffee. When you're all in the same room, it's easier for everyone to stay on task and listen to the person speaking. If your goal is to gain attention, then you'll want a face-to-face meeting.
You Can Better Read People and Learn From Them
When put in a room with others, it's easier to pick up on social cues and learn from their experiences. In Rebecca Heller's "A Cost Benefit Analysis of Face-to-Face and Virtual Communication: Overcoming the Challenges," she gives a list of benefits, including:
It helps you learn through tactic knowledge.
You can read your audience to quickly make adjustments.
Visual cues help you learn about others quicker.
These cues build trust.
You Build More Stable Relationships
In a Forbes study, 85 percent of respondents reported that they prefer face-to-face meetings to build stronger, more meaningful relationships. In business, these relationships are crucial because they can point to your success. People work with people they know and like, and if other businesses have a strong interest in your team because you chose to meet face-to-face when others didn't, you can push farther in the business world.
Face-to-Face Meetings are More Productive and Profitable
Want to stop wasting time with back and forth emails that could take you weeks or months to land a deal? Get it all done with a one-stop meeting where you can discuss all your concerns in one afternoon. But it's not just time you'll save. You could be losing 24 percent of profits by conducting virtual meetings.
Traveling to business meetings, however, poses some disadvantages. For one, it's often more expensive. Traveling also takes up valuable productivity time. Maybe you're worried your car won't make the journey. Don't let trivial things like that bring you down. When it's your turn to travel, you can easily find an Enterprise rent a car online.
While there are some complications that come with face-to-face meetings, the benefits outweigh the costs. You see, you could either conduct a meeting from the comfort of your office and not land the deal, ultimately wasting time, or you could invest your time and money into landing the deal, which means more profits for your business. Which option will you choose for your next important business meeting?