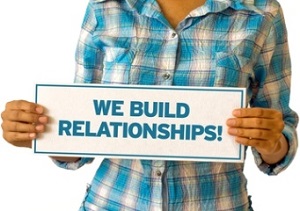 When you talk about personalised customer service, you are talking about seeing customers as unique individuals and not just as one type of person. Individuals have different needs, and often one-size-fits-all policies just do not work in these situations.
When a customer is told that what he want is against company policy, that makes him think that there is no other solution. However, if he is told that what he wants is not available, but an alternative will be explored, that keeps the request open. The customer does not feel that he hit a dead end.
Customers want efficiency from a company.
However, they also expect personalised service. They do not want to feel like that they are just a number. They want their individual needs acknowledged and addressed. Your staff should be trained to offer this level of customer service. If you would like your staff to be trained to a very high standard, give a consulting agency a try, there are some great companies out there, for instance http://www.capeconsulting.com
In order to know the preferences of a customer, a customer database must be developed to store data on each individual. Start with making sure that all the personal information is accurate, such as the name, address, email address, phone number, etc. Nothing sends a worse message than addressing the client by the wrong name. In addition to the basic facts, the database should contain other personal information like preferences. This will help you decide what to offer that may spark their interest.
Train your customer service staff in how they engage your customers in conversation that will make them want to do business with you. They should learn how to use the personalised information in the database to move a conversation forward.
Have the staff address clients by their names and offer their names in return. This is a personal touch that can start a conversation on the right foot. This takes practice because you want them to balance personal attention against intrusion into privacy. The right tone must be used when interacting with customers. Your staff should give the impression that they want to help in whatever way they can.
During training, have your staff do some role-playing to practice these soft skills. The more they practice, the more natural this will become to them.
When a customer relationship is established
Then your staff should look for opportunities to learn more about the customers. Have them find out what the customer needs, and what future needs may be based on what they want right now. There should always be an offer for further assistance. This way, the customer will feel at ease contacting customer service whenever they need something. What little extras can be offered to the customer?
When a customer has an issue that is not routine, a well-trained customer service representative should know how to look for possible solutions outside of standard practices. If an exception can be made appropriately that can solve a customers' problem, then this option should be offered. When a customer sees that your staff is willing to go the extra mile to get him what he needs, he will not doubt come back to you for more business in the future. He may even spread the word in positive reviews about what great service he received from you.
All of this has to begin from personalised attention to your customers. People do not want do business a company that is faceless and cold. They would rather do business with companies that they can trust, that they know will give them the attention and respect that they deserve. Customers do not want to get lost in the crowd and be forgotten. They want to know that their individual needs will be taken care of.
Citations:
Amy Rice enjoys writing articles on a number of subjects, when not writing I pass my time playing adventure golf and going to the cinema.