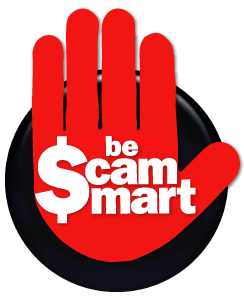 Unfortunately, financial scams have become an industry, and in 2013 more than 6 billion pounds was lost to financial fraud. So protect yourself from the fraudsters by knowing about the latest scams to look out for.
The Fake Job Offer
Preying on the unemployed in order to get them to unwittingly sign up for money laundering is a pretty low trick, but it's happening more and more often. Generally, a person is sent an email offering them a job as a 'money transfer agent' or similar, with the promise of a generous salary. If they agree, then money is sent to their account, where they must transfer it to the intended recipient, while keeping a portion of it themselves. However, this then implicates them as a financial fraudster, as the money is stolen and being laundered to other accounts abroad.
HMRC Scam
Most people feel a bit nervous when they see anything from the tax man, so fraudsters pretending to be the Inland Revenue are exploiting this. The fraudsters send out emails supposedly from the HMRC asking for payment, or sometimes offering a tax rebate. A hyperlink to an official looking page then asks for your bank details. Always avoid links, and instead go to the official site.
Mobility Scooters and Investments
Sadly, the elderly are perceived as 'easy victims' and are being increasingly targeted by companies selling mobility scooters and aids at extortionate prices, as well as fraudsters pushing them to take out financial investments that don't exist. They use high pressure selling tactics to press elderly people into buying. Always thoroughly investigate these types of sales calls, and avoid any company who puts on the pressure.
Royal Mail Emails
A new scam is to send emails that appear to be from the Royal Mail, telling the recipient there is a parcel that needs collecting. However, this is a trick to get users to download a malware attachment. Any email from the Royal Mail regarding parcels should not have an attachment, so if you receive one, do not open the attachment and delete the email immediately.
Dating Websites
If people looking for love online don't already have it hard enough, they now need to be on the look out for financial scammers. Often using fake pictures and profiles, the scammers pose as Mr or Mrs Right for a period of time, before sending emails pretending to be stranded or in an accident, and requesting money. Surprisingly, many people have been victims of this type of scam, so always be on your guard when using dating websites, never send anyone money, and trust your instincts.
Credit Repair Scam
This is a scam where companies pretend to offer you a new credit identity for credit reports blighted by bankruptcy or a bad credit history. However, a credit history cannot be faked, so any company promising to transform your record overnight is making false claims and is most likely a scam. Credit Cleaner helps you understand your credit report, so instead you can work on repairing your credit score legitimately.
Wendy Lin is a female entrepreneur, author and painter. She specialises in guest blogging and enjoys watercolour. When she's not escaping to tropical holidays, she can be found in the countryside painting.