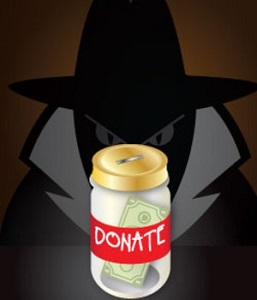 If you're looking to donate to charity, you have to be aware that not everybody's intentions are as good as yours. There are people out there who prey on the generous, and even in situations where that isn't the case, you still might not be sure where exactly your money is going. These tips can ensure you make better choices with your donations and help you stay safe from charity fraud online:
Refrain from clicking email links
If you get an email from a charity soliciting donations, don't click the link provided — instead, navigate your own way to their website. Fake email messages can look incredibly realistic, and are often indistinguishable from the real thing. They usually lead to a phishing website, which will be identical to the genuine website, but will have a different URL.
Even scam email addresses can look genuine. It's so easy to fake things online that you're better off ignoring all mail-outs you haven't requested. The same goes for unprompted 'password reset' emails, or ones alleging to be from your bank. If you're not expecting to be scammed, the less cautious you'll be, so it's best to treat all unsolicited emails with suspicion.
Learn where your money's going
Most charities should tell you what percentage of your donation will go to the cause, although you might have to sift through the small-print to find out. If you're having trouble, give the charity a call, and they'll have to tell you. If the charity takes a big cut, you might want to consider sending your money elsewhere. Anything over 80% is considered 'good'; there's always going to be some overhead costs.
Do your research
Remember that Joseph Kony 'Invisible Children' video that went viral in 2012? The original video claimed the Ugandan guerrilla group kidnapped young children, turning the girls into sex slaves and the boys into child soldiers. Three weeks later, suspicions began to arise as to the authenticity of both cause and charity. Researchers claimed that much less than money was going to the cause than Invisible Children promised, and that the situation in Uganda had been dramatically overemphasised.
Things online aren't always what they seem, so it's definitely worth doing your research — especially if you come across the campaign on social media.
Read the small print
Some companies and organisations are sneaky online. There are a few major retailers who make it very easily to accidentally sign up for a credit account with them, when all you're trying to do is pay. If you're in a hurry, or not particularly internet-savvy, you could easily end up in a financial mess.
You have to be careful — charities can do the same thing when it comes to one-off and monthly donations. You might think you're only giving a few pounds, but you could easily be setting up a direct debit. If ever you find an online form confusing or misleading, enlist a friend or relative to help — or find another way of donating.
Sam Wright is a freelance writer. He is currently working for Third Sector, and is training for a charity run this summer.