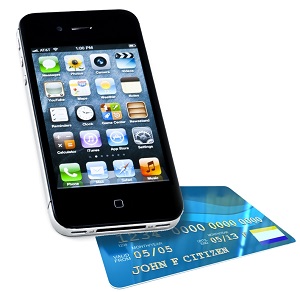 With the start of another New Year it is time to look at the trends that we can expect to see in technology and business. One of the biggest trends of recent years and that is expected to grow in 2014 is mobile payment. Thanks to the rapid adoption of Apple and Android phones and tablets, it has become easier for consumers to pay for goods and services through their mobile devices.
Whether it involves a customer using his or her smartphone that is linked to a bank account to pay for products or a sales associate accepting payments by swiping cards with their device, mobile commerce has quickly become a quick and efficient way for companies to do business in a time-crunched world.
However, customers and businesses are hesitant to wholeheartedly embrace m-commerce due to the higher risk of fraud.
Obstacles to Overcome with Mobile Commerce
Fraud can be and has been committed in a number of ways and as long as companies make money there will be people trying to get a piece for themselves. In mobile commerce, fraudsters use ploys like account takeovers, malware and mimicking mobile devices to initiate fraudulent transactions. In addition, thieves that gain access to a consumer's smartphone could conceivably gain access to their accounts with a business using an app where payment information has already been stored.
If this is the case, it is necessary for companies to be able to verify the true identity of the person attempting a purchase so that fraud can be deterred and legitimate business can flourish.
Identity Verification Solutions for M-Commerce Businesses
One of the best ways to achieve your goals when it comes to identity verification is to incorporate an end-to-end solution into your business model. This allows your team to establish the identity of someone using your mobile platform before they are able to obtain access to account information or make a purchase. Since this system can be knowledge based and use multiple-choice questions for customers to answer there is no invasion of privacy or the need for your true customers to remember complex data or information.
Your company benefits by being able to confidently move into the m-commerce space and unlock greater opportunities for revenue. Your customers will get piece of mind knowing that should they be victims of identity theft, your company will protect their interests from fraudsters.
Fully Implementing Identity Verification for Mobile Commerce
In order to fully implement your identity verification system and get the most out of the security it offers you need to have a comprehensive solution in place that verifies identities when customers sign-up for and access your platform on their mobile device. During account setup you can initially verify the identity of a customer and perform subsequent checks when they use your mobile platform for payments in the future.
This is just as important as, if not more than, using identity verification systems when customers interact with your business through a computer or by utilizing a call center.
To get started, find an id verification system that is tailored for m-commerce so that you can get all of the benefits and functionality you have with your current solution for your mobile customers.
Written by Britni Zandbergen, Senior Director of Marketing at Idology.  Britni has years of experience in identity management as well as dynamic SaaS solutions.