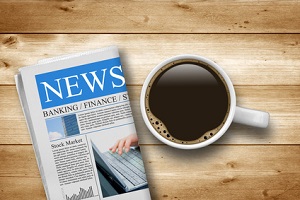 Keeping up with the latest changes and scandals in the world of global banking isn't always easy. Each of the big banks can produce dozens of newsworthy updates per day, and not all online sources do a good job of sifting through the less important items that crop up.
Scanning the headlines from just a few trustworthy websites will keep you up to date on changes that could affect your mortgage, savings accounts, or investment portfolio. Add these four news websites and two news aggregates to make sure a crucial law change or CEO change doesn't slip past you.
Few professionally curated news blogs mix tips on saving money with high-end analysis of the current economic situation. You have to sift through the vast mix of information yourself by heading into the finance category, but once there, you can track various blogs from your favorite banking writers. Each one comes with an independent RSS feed, so you don't have to go through the Business Insider home page each time you want to check for updates. This website combines articles from across the web with their own original content from a team of reporters, so focus on the curated blogs for the best results.
As one of the biggest and best-maintained news aggregates on the Internet, you'll get the broadest view by tracking U.S. News & World Report. They separate feeds by topic, including banking, international banking, domestic banking, and investment areas. There's no need to deal with a ton of content that isn't relevant to your interests, but there are also fewer filters to keep out basic DIY budgeting articles. You may have to scan this source on an hourly basis because news items are quickly pushed to the bottom of the list.
When it comes to localized financial information, few sources are as concise as Reuters. Traders and investors across the world turn to this news leader first to find out how the stocks are doing or why investment rates are suddenly sinking. Their homepage covers both politics and business issues, but you can easily focus on specific markets or the banking industry through the various category options. Don't expect to see constant coverage on the same scandals every other outlet is reporting — Reuters tends to focus on other stories when sensationalism takes hold.
This aggregate gets a bad rap for ruining online news, but the blogs produced within the financial categories are quite focused and useful. The Banking vertical is filled with blog posts from financial experts examining complex financial issues with political and social elements. While breaking news won't necessarily show up in a timely manner on this part of the site, it is still worth checking at least once a day to broaden your horizons. Surprising quality can be found if you know where to look on the Huffington Post.
Don't forget about Bloomberg when trying to keep an eye on the country's big banks. Unlike the other news sources on this list, this one won't mix up your news feed with opinion pieces or too much about the rest of the world. Expect to see hourly updates on Wells Fargo, JP Morgan, Goldman Sachs, and the other movers and shakers. There are also numerous apps available from the source to make sure your mobile devices deliver headlines as smoothly as possible.
If you're in the banking industry and you need deeper information and analysis than other news sources provide, turn to Deloitte. This consulting company is always delving into and researching the financial world as a whole. It's easy to find something surprising about a well-known bank or an obscure market on this website. While newcomers to the stock market or scandal trackers won't find much to pique their interest, serious banking experts need this kind of information.
Chris Countey is an internet marketer for the financial services industry and compiled this list for WSFS Bank.