In this instance, the LG Optimus 3Dtri-dual architecture smart phone consists of dual-memory chips, dual-channel data transport and memory, and a dual-core processor. It is possible for a smart phone to use the same terminology, but have different configurations.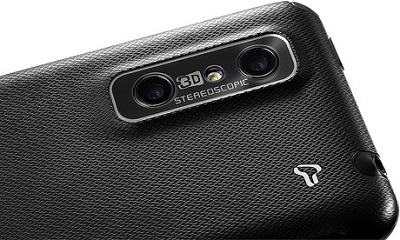 What Comes with the LG Optimus 3D
Inside of the LG Optimus 3D box, you will find the following.
      LG Optimus 3D Smart Phone
      Sync Charging Cable
      Noise-Cancelling Ear Buds
      User Guide
      Battery
      Wall Charger
The LG Optimus 3D Components
The following are considered the most important parts of the LG Optimus 3D.
      512 MB of RAM
      8GB of ROM Storage
      Dual-core 1GHz Texas Instruments OMAP4 processor
      SGX 540 GPU
      The screen is 4.3" big, has a resolution of 800 x 480 and is able to show 3D withou      the need for glasses
      It contains dual 5mp cameras that can record 720p 3D (30 fps) and 1080p 2D (30 fps) video.
      Contains a 1.3mp front-facing camera for video calls.
Quality of the Manufacturing Process
As with everything that LG makes, they are always fairly presentable. The LG Optimus 3D does not have any obvious defects. It fits together very tightly, and there are not any open holes that would allow dust to get into the smart phone. It feels very solid in your hand, and it does not make any squeaking sounds.
Screen Picture Quality
It comes with a 4.3 inch screen that produces nice colours, but not excellent ones. The contrast is fine, except when you are shooting outdoors. When it comes to people, it seems to capture skin tones quite nicely. If you want to view 3D content, you will need to use it in the landscape mode.
Operating System
TheLG Optimus 3Duses Google's Android operating system. So, if you have another phone with it on, then you will have no problem quickly getting up to speed with your new phone. The only difference is that the Menu button is on the left, as opposed to the usual right side of the phone. It comes with Android 2.2 Frodo out of the box. However, they promise to make the Android 2.3 Gingerbread available as soon as it is released.
How Good is the LG Optimus 3D
The LG Optimus 3D's primary market is people that want to shoot 3D videos. That is who it was designed for and it performs that task rather well. Of course it is not as good as an expensive 3D video camera, but you cannot put one of those in your pocket either.
It really only has one drawback, and that is it size. It is fairly large, and people that have small hands could have difficulty using it. Other than that, if you are a 3D video fanatic, then you should run, not walk to the store and get one. Will another 3D phone come out in the near future that will shoot better videos, and have more bells and whistles? There is no way to answer that, but the LG Optimus 3D is here now, and there is no reason why you should not own it.
Laura Ginn is a smart phone enthusiast that loves nothing better than trying out all of the best devices as soon as they come to market. She heard about the about the LG Optimus 3D and knew she could not live without it. After all, what's better than a 2D video? A 3D video!