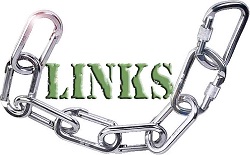 Links. For most people those web elements are just an easy comfortable way to be referred to other websites, but for webmasters links are everything. Links can increase websites' search traffic and since Google unleashed the Penguin update, they can also decrease websites' search traffic.
And while site owners have already tried to understand better the positive impact of links on search rankings in the past, the Penguin update made it even a more intriguing SEO topic to inquire as it opened up the discussion about the negative impact of links on search rankings.
Here, I will try to give you a fresh update about how Google is seeing three different kind of links- No-follow links, infographic links and links from the site updowner.com (which apparently generates A LOT of links).
No-Follow Links Don't Count and Won't Negatively Affect Sites
On an ongoing thread on Google Webmaster Central Forum about do-follow and no-follow links, Google's webmaster trends analyst John Mueller has issued the topic regarding to how the search engine treats no-follow links:
…having links (even a large number of them) with rel=nofollow pointing to your site does not negatively affect your site. We take these links out of our PageRank calculations, and out of our algorithms when they use links.
What Mueller is basically saying is that no-follow links have no impact what so ever (for better or worse) on the site's rankings. It also means that even a lot of spammy no-follow links won't result a Penguin strike. It is worth mentioning that recently Matt Cutts stated that no-follow links only makes up a small single-digit percentage on the web in general.
Infographic Links May Get Disqualified In The Future
Over the past year or so, there's a big rise of infographics on the web. But while many infographics do offers a great visual experience to consume information, there are many who take advantage of them just for linking purposes without really providing accurate facts which can be misleading, and Google obviously don't want to support that.
In an interview with Eric Enge from Stone Temple Consulting, Matt Cutts have shared his thoughts about how he grasps infographic links and how Google may relate to them in the future:
I would not be surprised if at some point in the future we did not start to discount these infographic-type links to a degree. The link is often embedded in the infographic in a way that people don't realize, vs. a true endorsement of your site.
Even though Google doesn't discount or devalue infographic links today, I wouldn't advise you to focus your SEO efforts on infographic link-building campaigns because at some point in the future those links just might get disqualified.
Links From Updowner.com Don't Counts
Although it isn't an acute SEO topic, some site owners have complained that the site updowner.com is generating TONS of spammy links to their websites which may have or will trigger the Penguin against them. On (another) Google Webmaster Central Forum thread, John Mueller has referred to this issue as well:
…for what it's worth, we do ignore the links from updowner.com.
Short and simple.
(Hat tips for Barry Schwartz from Search Engine Roundtable)