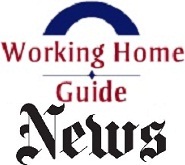 What were the main online news this week? Facebook introduces Listen button on artist pages, Twitter initiated company-employees patent agreement, Pinterest targeting affiliate links, Blogger presents new affiliate ads product, Google search algorithm gone crazy, YouTube improves its audio editor, Google chopping off products and Foursquare reported to launch ad platform.
Facebook "Listen" Button on Artist/Musicians Pages – It has been revealed this week that when visiting Facebook pages of artists or musicians, a new Listen button appears next to the page's Like button. Clicking on it allows listening to the artist's tracks from music apps such as Spotify, Rdio, Slacker Radio or MOG.
Twitter Presents Innovator's Patent Agreement (IPA) – Twitter presented a new agreement between the company and its employees, shifting some of the patent rights back to the employees. Twitter called for more tech companies to adopt this agreement in order to make some order on the messy patent arena.
Pinterest Go After Affiliate Links – It already known that Pinterest is battling against spam on the social networking site but it appears that this week the company is taking more drastic actions regarding this matter, this time targeting pins with affiliate links from Amazon affiliate program.
Blogger Introducing Affiliate Ads Product – The free blogging platform launched a new affiliate ads product which allows bloggers to easily advertise products from Google Affiliate Network directly in posts. What interesting about it, is how Google's search engines will relate to those affiliate ads inside posts…
Major Bug In Google Search Algorithm – Many webmasters have reported this week that their sites have completely disappeared from Google search results. At first it appeared like some sort of major algorithm update but couple of days later Matt Cutts has stated that it is a bug in the search algorithm caused by some "renegade" classifier.
YouTube Upgrades The Audio Editor Tool – In an effort to assist users creating more professionals videos, YouTube has upgraded its audio editor tool by enhancing its songs library that users could add to the video's soundtrack alongside easy balancing with the original audio while also improving the editor's interface.
Google Cutting Off More Products – Google announced this week that it is retiring more low-demand products on the fourth round of "spring cleaning". Some of the victims this time: The Related Toolbar, One Pass, Patent Search and more.
Foursquare Reported To Launch Ad Platform – According to some pretty reliable reports across the web, the location-based social networking service is planning to roll out a new ad platform in June. This move indicates that Foursquare is looking to grow furthermore by itself and not looking for some lucrative exit.
We will keep bring you the latest internet news, guides, analysis and opinions every day here in Working Home Guide!